'New Mutants' Will Bring Back James McAvoy's Professor X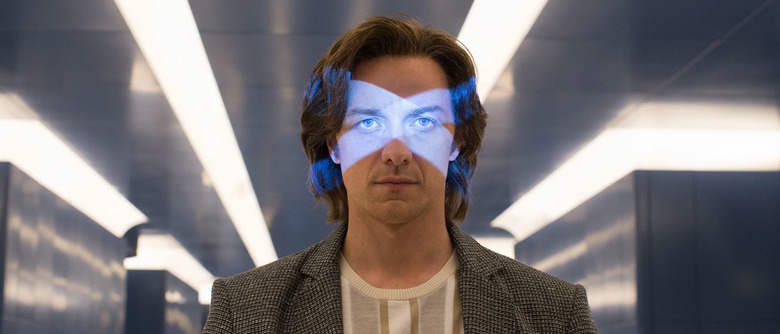 Despite the fact that New Mutants is supposed to start shooting within the next few months, there's still not a whole lot we know about it. No casting has been officially announced (though there are plenty of rumors swirling about), and while an animatic unveiled Demon Bear as the big villain, plot details remain pretty scarce otherwise. But today someone let slip that James McAvoy will be returning as Professor X, the role he's inhabited since 2011's X-Men: First Class. 
McAvoy is currently starring in M. Night Shyamalan's Split with Anya Taylor-Joy, who's one of the young stars rumored for New Mutants. Coming Soon sat down with Taylor-Joy for a recent interview during the Split press tour. Since Fox has not publicly confirmed her casting, Taylor-Joy is being careful not to say too much about the role she may or may not (but probably does) have:
I have [seen the Demon Bear animatic], it's pretty cool. I'm a big fan so I'd love to be a part of it. I can't say very much, but I would love to be a part of it. I think this year's gonna be very exciting.
She was more forthcoming, however, about McAvoy's involvement in New Mutants. "I mean, I think James is already a part of it, isn't he?" she said when asked if she might reunite with her Split co-star.
We have known for some time that Charles Xavier would pop up in New Mutants. Back in May, producer Simon Kinberg stated, "Right now, as the movie exists, Professor X would be a part of a New Mutants movie." However, he did not clarify at the time whether Professor X would be played by McAvoy, Patrick Stewart, or some other actor to be revealed later. And with First Class stars Michael Fassbender and Jennifer Lawrence likely done with the X-Men franchise, it seemed possible McAvoy would be on his way out as well. So while it's not exactly surprising that McAvoy will indeed return as Professor X, it's still nice to get confirmation.
As revealed by Boone, New Mutants will focus on the traditional lineup of Mirage, Magik, Cannonball, Sunspot, and Wolfsbane. Taylor-Joy is reportedly being eyed for Magik, and Game of Thrones' Maisie Williams is said to be up for Wolfsbane. Paper Towns' Nat Wolff is rumored to be in the running for Cannonball. There was also a story going around that Alexandra Shipp might reprise her X-Men: Apocalypse role as Storm, but that part has yet to be confirmed.New Mutants is aiming to shoot in spring 2017 for release sometime in 2018.