Doug Jones Plays A Fish Man In Guillermo Del Toro's 'The Shape Of Water'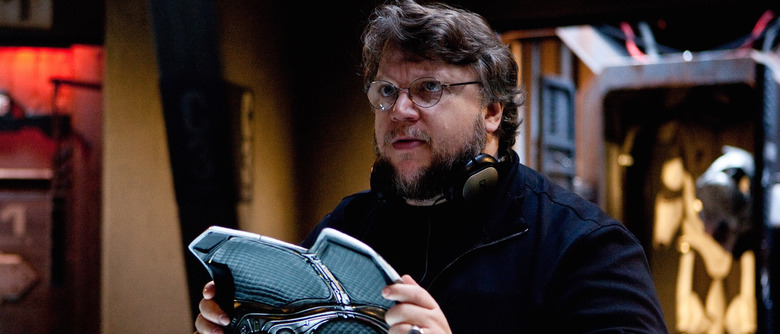 What's one movie to look forward this year? Director Guillermo del Toro's (Pan's Labyrinth) cold war fantasy film, The Shape of Water. Fox Searchlight is behind the project, which del Toro started shooting late last summer in Toronto, Canada. We know a decent amount about the love story, but actor Doug Jones (Hellboy II: The Golden Army) recently revealed more information about the film and the creature he's playing.
Below, learn new The Shape of Water story details.
The romance is smaller in scale compared to del Toro's past couple efforts. "This is the same scale, exactly, as Pan's Labyrinth and I wanted to feel the same freedom where I could try to tell the story with whatever emotional logic I want to follow," the co-writer/director explained. The Shape of Water stars Jones, Sally Hawkins, Michael Shannon, Richard Jenkins, Michael Stuhlbarg and Octavia Spencer.
The fairytale is set in 1963 and reportedly follows Elisa (Hawkins), a cleaning lady working in a government lab, where a creature (Jones) is being held captive and tested. She comes up with a plan with the help of her neighbor (Jenkins) to free the creature, whom she falls in love with.
Based on what Jones told Collider about the film, the previously reported plot details appear spot on. Here's how the Bye Bye Man actor and frequent del Toro collaborator described The Shape of Water:
It's a 1963 drama—it's not a sci-fi [film], it's not a genre film, but I am a creature in it. I'm a fish man that's kind of a one-off. I'm an enigma, nobody knows where I came from; I'm the last of my species so I'm like a natural anomaly. And I'm being studied and tested in a U.S. government facility in 1963, so the Russian Cold War is on, the race for space is on, so there's all that backdrop and that undercurrent. I'm being tested for how can they use me for advantages in military or space travel, or my technology—can we make this usable for humans? So they're trying to keep me a secret from the Russians.
Meanwhile, there's a love story that brews out of it, and that would be the cleaning lady played by Sally Hawkins. She comes and finds me, has sympathy on me, and then that's the story that you're really gonna follow with this whole backdrop.
The Crimson Peak and Cronos filmmaker spent nine months creating and designing Jones' character, which is most time he's ever spent working on a creature in his career. There's no release date set yet, but a late, awards-friendly 2017 debut sounds most likely. Jones added he'd very surprised if The Shape of Water doesn't bring del Toro back to the Academy Awards next year.