'Trespass Against Us' Trailer: Can Michael Fassbender Get Away From Being A Getaway Driver?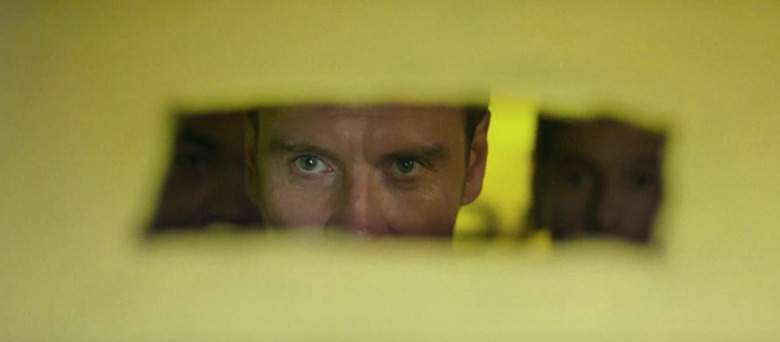 Recently Michael Fassbender has played a mutant on a mission, a man with a Macintosh, and Macbeth. Now he finds himself in a caravan family of criminals in a new indie thriller.
Trespass Against Us sees Michael Fassbender as Chad Cutler, one chain in three generations of a family who have been outlaws living in the country for decades. Brendan Gleeson plays his father who proudly passes the mantle down, but it appears there's a kink in the chain as Chad realizes he doesn't want his son Tyson to follow in his footsteps. Though he's attempted to stop his criminal ways, he can't help but take on one last job from his father in order to finally leave it all behind.
Watch the new Trespass Against Us trailer after the jump.
The first trailer for this film from Adam Smith back in the fall cleverly painted the picture of a kind of quirky family drama before it took a more serious, tense turn in the second half. This one takes that turn a little sooner and shows us more footage of the conflict that arises between Gleeson and Fassbender, which should be fantastic to watch.
Trespass Against Us premiered back at TIFF last year and the reviews were not overwhelmingly positive. At best, they were mixed, with Jordan Hoffman at The Guardian writing, "The film wants us to fall in love with this extended band of outcasts, but really, there isn't all that much to love. They aren't even doing anything with the money they steal! But Gleeson and Fassbender, given plenty of space in what are ultimately meandering scenes, are still somewhat electrifying." So at the very least, Fassbender and Gleeson do their best with what they're given.
Trespass Against Us is set across three generations of the Cutler family who live as outlaws in their own anarchic corner of Britain's richest countryside. Chad Cutler (Michael Fassbender) is heir apparent to his bruising criminal father, Colby (Brendan Gleeson) and has been groomed to spend his life hunting, thieving and tormenting the police. But with his own son, Tyson (Georgie Smith) coming of age, Chad soon finds himself locked in a battle with his father for the future of his young family. When Colby learns of Chad's dreams for another life he sets out to tie his son and grandson into the archaic order that has bound the Cutler family for generations. He engineers a spectacular piece of criminal business involving a heist, a high-speed car chase and a manhunt, which leaves Chad bruised and bloodied and with his very freedom at stake.
Trespass Against Us hits theaters on January 20.