Kevin Smith Directing Episode Of 'The Goldbergs' Dedicated To Tim Burton's 'Batman'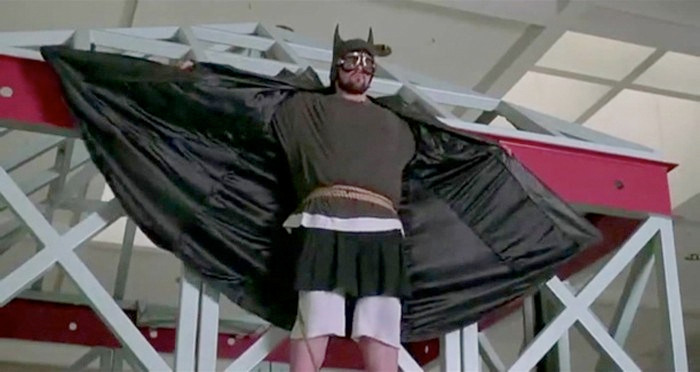 We already know that the second half of the fourth season of The Goldbergs will feature an episode dedicated entirely to The Karate Kid, but since nostalgia for the 1980s is the show's modus operandi, that won't be the only movie from that decade prominently featured later this season.
The Goldbergs will have an episode dedicated to the excitement of the release of Batman, the 1989 film directed by Tim Burton that had audiences going crazy to see the Dark Knight on the big screen for the first time in decades. In addition, that episode will be dedicated by Bat-fan, comic book writer, and filmmaker Kevin Smith.
Find out more about The Goldbergs Batman episode below.
IGN made the discovery that Kevin Smith was directing this particular episode, which will start shooting next week. This comes after Smith has garnered praise for directing episodes of the DC Comics TV shows The Flash and an upcoming episode of Supergirl.
Appropriately, the episode will be called "The Dynamic Duo," and while there's no indication as to which characters the title is referring to, I hope it's Adam (Sean Giambrone) and his grandfather "Pops" (George Segal) since the show has kind of abandoned the fact that they used to go to movies together all the time early on in the series.
Here's what Kevin Smith had to say about directing The Goldbergs Batman episode:
I grew up watching the Adam West Batman and I was in a sold out movie theater for Tim Burton's Batman on opening day, June 23rd, 1989, so I can't wait to recreate those early eras of Bat-amania in the Goldbergs Universe. Luckily, the funny folks in front of and behind the cameras who make this hysterical show every week will be doing all the heavy lifting in our time travel experiment.
Creator and executive producers Adam F. Goldberg couldn't be happier about having Smith direct this particular episode, saying:
The hardest thing about having Kevin Smith direct an episode of The Goldbergs is playing it cool and not acting like a weirdo geek super fan. I've waited in long lines to have him sign my Bluntman comics, I've collected his Clerks action figures, I've forced my writers to watch clips of his speaking engagements and I shoe-horned in a part for him in my screenplay for Fanboys just so I could meet the guy. I even STAYED in Hall H at Comic-Con when J.J. Abrams escorted thousands of people to a Star Wars concert.
While I didn't stay in Hall H to watch Kevin Smith's panel (how can you turn down a Star Wars concert?), I will say that it's pretty cool to have him directing an episode like this. We don't know when this episode will air, but since it's just starting to shoot next week, I'm betting we won't see it for at least a couple months.