'Cars 3' Reveals First Look At New Heroes And Villains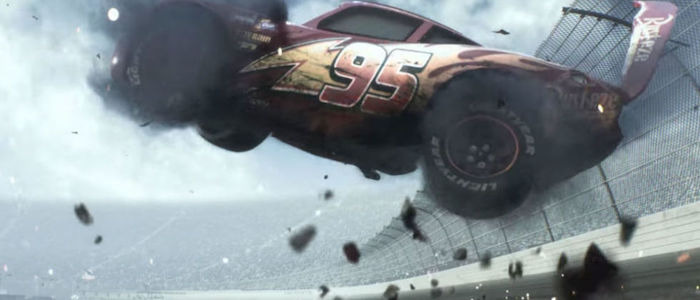 The first Cars 3 trailer that arrived a little while back was almost hilariously cryptic, showcasing a dark and dreary scene where series star Lightning McQueen wrecks on the racetrack. Children cried. Grown adults made wisecracks about whether or not this will be the anthropomorphized car version of Million Dollar Baby. I'll say this much: it was jarring enough that even I, someone who would place the Cars movies last on a personal ranking of Pixar movies, was interested in what was going on with this one.
The first hard story details, including the introduction of two new characters, have arrived to add context to that dramatic accident seen in the preview.
Entertainment Weekly has the details, including comments from director Brian Fee, a storyboard artist on the first two Cars movies who is making his directorial debut. It seems that Cars 3 will be upfront about the fact that the original film came out a decade ago and that Lightning McQueen finds himself getting older and slower as faster, more advanced cars begin to compete with him on the track:
McQueen is not the young hotshot anymore, the kid he was back then in Cars 1. He's in the middle of his life, and as an athlete, that's getting up there. You have your whole life ahead of you, yet your career is starting to show its age. He's looking in the mirror and realizing, "I'm 40 years old," and dealing with the fact that the thing that you love more than anything else, you might not be able to do forever.
This conflict will be embodied by Jackson Storm, a technologically advanced, arrogant young automobile voiced by Armie Hammer. Described as "light-years ahead of Lightning," this character is meant to represent what ten years of automotive innovation look like in one somewhat sinister package. "He thinks the future of racing and the high-tech ways they train and what they can do means they're taking the sport to a new level, and the older guys had their day, and it's done, and they have no place in the future of racing," says Fee.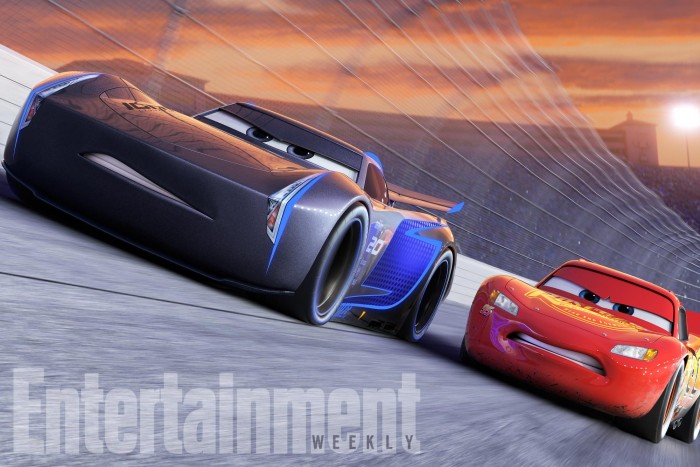 But there is at least one automotive millennial on Lightning McQueen's side. Enter Cruz Ramirez, a young car voiced by Cristela Alonzo, a lifelong fan of Lightning who joins her idol's team as his brand new coach. Can this young automobile teach an old automobile new tricks and place everyone on the road to a valuable life lesson? Does the Popemobile poop in the woods?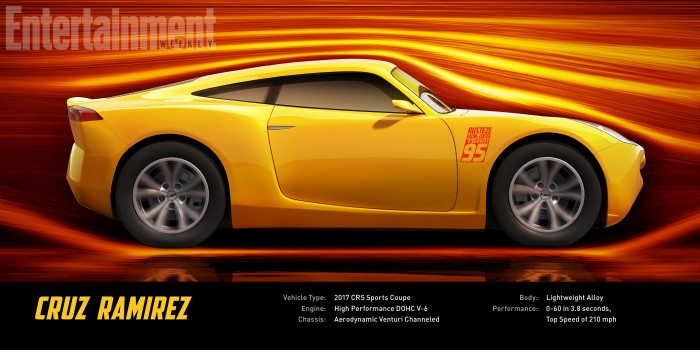 Cars 3 opens on June 16, 2017. For more images, details, and even a few brief videos of the new characters in action, follow the link above.