'Sleepless' Clip: Jamie Foxx And Michelle Monaghan Share Some Sharp Words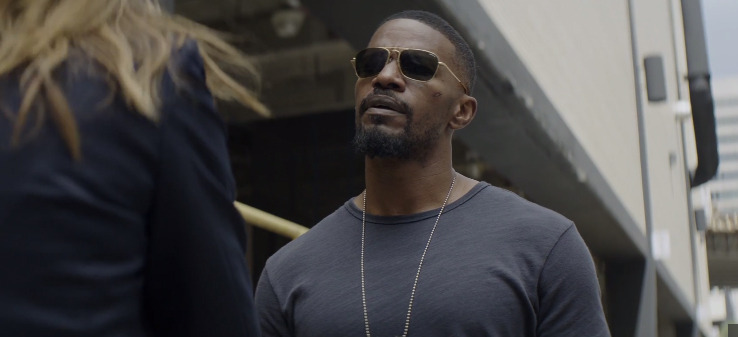 Looking to mix up the dullness of the big screen offerings in January is the action thriller Sleepless. The film stars Jamie Foxx as an undercover cop working to infiltrate some of his fellow police officers who have turned corrupt. But when he starts getting too close, one of the crime bosses he's trying to bust kidnaps his son. Jamie Foxx doesn't like that at all.
You can see how all that plays out in the first Sleepless trailer that debuted last fall, but now a clip from the movie has debuted, showing us the tense, cheeky relationship that Jamie Foxx has with Michelle Monaghan, who works in internal affairs and has no idea that Foxx is just pretending to be a corrupt cop as part of his job, and isn't actually as bad as some of his colleagues.
Watch the Sleepless clip below.
The banter here isn't quite as clever as it could be, but the tension between Foxx and Monaghan is palpable. I'm curious as to what the situation Foxx is referring to when he points out the scratch on Monaghan's face. Anyway, clearly these two have crossed paths before, but surely they'll end up helping each other out in the end.
Sleepless is being framed similar to Taken, with Foxx doing everything in his power to get his son back from some sketchy people. But they've taken out much of the intrigue by revealing that Foxx is an undercover cop who is only pretending to be corrupt. Since this is an American remake of the French film Nuit Blanche (written/directed by Frédéric Jardin), they've changed something else to spice things up. We'll get to find out when the movie hits theaters next week
Swiss filmmaker Baran Bo Odar makes his American directorial debut with Sleepless, written by Straight Outta Compton scribe Andrea Berloff. If you want to see more from Sleepless, watch the first trailer right here.
Sleepless stars Foxx as undercover Las Vegas police officer Vincent Downs, who is caught in a high stakes web of corrupt cops and the mob-controlled casino underground. When a heist goes wrong, a crew of homicidal gangsters kidnaps Downs' teenage son. In one sleepless night he will have to rescue his son, evade an internal affairs investigation and bring the kidnappers to justice.
Sleepless hits theaters on January 13.