'Better Call Saul' Season 3 Teaser Brings Back Your Favorite "Criminal" Lawyer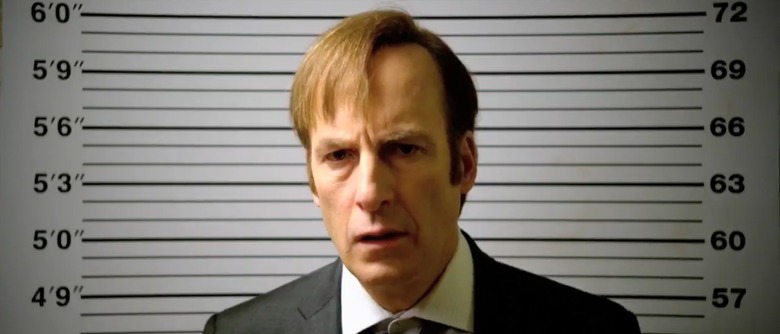 As of Better Call Saul season 2, Slippin' Jimmy still has a ways to go before he fully transforms into Saul Goodman. Yes, he's done some sketchy stuff, but he's still trying to be a reasonably good person, and he's still trying to build a respectable career as lawyer Jimmy McGill. But the tragedy of the show is that we already know exactly where those efforts will get him.
The first Better Call Saul season 3 teaser trailer emphasizes the "criminal" part of "criminal lawyer," hinting that Jimmy could be headed for a big fall. Check it out below.  
Better Call Saul Season 3 Teaser
#BetterCallSaul is back in the line-up this spring. pic.twitter.com/tNEKz3v3HK

— Better Call Saul (@BetterCallSaul) January 3, 2017
It's not much to look at, but I'll gladly embrace any reminder that one of the best shows on television is due to return soon. It's not clear if the snippet above is actual footage from the new season, or something shot just for the promo. Either way, it looks like we're in for a wild ride.
While the promo doesn't give any indication as to why Jimmy's getting his mug shot taken, it could have something to do with the events of the season two finale. The final moments of that episode revealed that (spoilers...) Chuck had finally gotten the better of Jimmy, manipulating Jimmy into admitting his crimes. That he did so by appealing to Jimmy's empathy felt like an act of breathtaking cruelty. That he secretly recorded the whole thing on tape, despite his electromagnetic sensitivity, served as proof of the lengths Chuck would go to in order to destroy his brother. Maybe season 3 sees Chuck turning that tape over to the cops, and Jimmy getting arrested as a result. Then again, Jimmy's very often up to no good in situations that have nothing to do with Chuck. So for all we know, he could be going in for something else entirely.
Although Jimmy remains the center of Better Call Saul — and although he's the only character we even see in this promo — the second season also spent a lot of time on Mike Ehrmentraut, whose plotline seems to be leading directly into the events of Breaking Bad. At this point, he's met Tuco, the Cousins, and even Hector Salamanca himself, and it looks like Gus Fring might show up sooner rather than later. Could Jimmy's criminal activities in season 3 bring him closer into Mike's orbit?
Sadly, we've still got a little while to wait before we find out, as Better Call Saul will be arriving a little later than usual this year. AMC hasn't announced an exact premiere date, but the teaser indicates we can look for the show to return sometime in spring 2017.