'The Lovers' Trailer: Debra Winger & Tracy Letts' Extramarital Affairs Save Their Marriage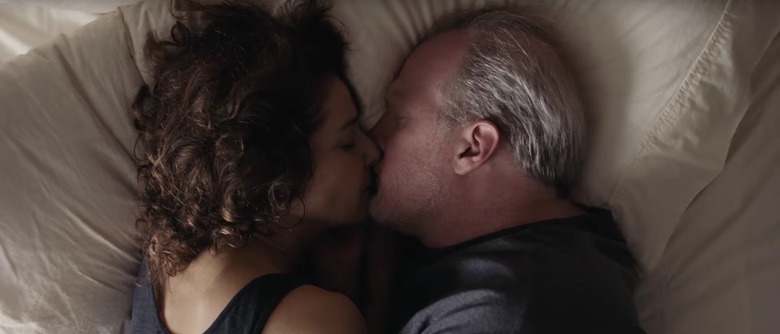 Stop me if you've heard this one before: a longtime couple finds that the spark has gone out of their marriage, and begin seeking satisfaction in outside affairs. One thing leads to another, the new relationships grow more serious, and it looks like the marriage is about to be over for good. So far, so familiar, right?
But then Azazel Jacobs' The Lovers throws a curveball. In this film, the couple, played by Tracy Letts and Debra Winger, unexpectedly find that their extramarital activities have rekindled the passion within the marriage. It's not long before the spouses find themselves cheating on the people that they were cheating on each other with (played by Aidan Gillen and Melora Waters. Watch The Lovers trailer below. 
The Lovers Trailer
Surprisingly, The Lovers hasn't hit the festival circuit at all, so your guess is as good as anyone's as to how this film is going to turn out. The trailer, though, looks pretty promising. Jacobs is an indie filmmaker who's probably best known for Terri, an underseen coming-of-age dramedy that went beyond the usual "misunderstood teen" tropes to deliver something charming and poignant, and it looks like he's taken a similar approach to The Lovers. Lord knows the world could use some more good romantic comedies, so I'll be keeping this one on my radar. The Lovers opens May 5.
Written and Directed by Azazel Jacobs, THE LOVERS is a refreshing, funny look at love, fidelity, and family, starring Debra Winger and Tracy Letts as a long-married and completely dispassionate husband and wife. Both are in the midst of serious affairs and are increasingly committed to their new partners. But on the brink of officially calling it quits, a spark between them suddenly and unexpectedly reignites, leading them into an impulsive romance that forces them to navigate the hilarious complications of "cheating" on their respective lovers. A mixture of humor and powerful emotion, the story is a uniquely honest take on modern marriage.