'Bright Lights' Trailer: An Intimate Portrait Of The Late Carrie Fisher & Debbie Reynolds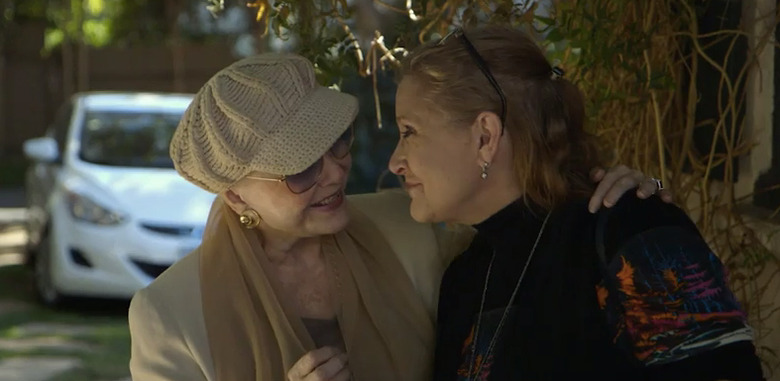 It's been just one week since Hollywood was dealt the crushing one-two punch of tragedy that was the deaths of actress and writer Carrie Fisher, and her mother, silver screen icon Debbie Reynolds. Before this sad news even transpired, HBO already had a documentary about the mother/daughter relationship between the two Hollywood stars planned for a premiere in March, following a debut at the Cannes Film Festival last year. But following the deaths of both subjects, they've bumped up the premiere in their memory.
Bright Lights: Starring Carrie Fisher and Debbie Reynolds takes a look at the lives of these strong, wonderful women, their work in front of the camera, their relationship off-screen, and all the Hollywood tabloid headlines that came from both of their lives. Now you can get a taste of what Bright Lights will offer with the Carrie Fisher and Debbie Reynolds documentary trailer.
For those who don't know, Carrie Fisher and Debbie Reynolds lived next door to each other, making their home life much more intimate than most mother and daughter relationships at their age. Their banter between each other is priceless, which makes this portrait all the more irresistible.
Most of the documentary was shot a couple years ago, though there is definitely some archive footage, photos, and more used to help tell their story. Part of it finds Carrie Fisher getting ready for rehearsals for Star Wars: The Force Awakens as she worries about her mother's health in her twilight years. Of course, Reynolds can't help but continue to be the performer she always was, opting to stay in the spotlight instead.
This looks like a wonderful way to remember Carrie Fisher and Debbie Reynolds while also learning much more about their life in the process. Having just watched Fisher's one-woman show Wishful Drinking again this past weekend, I'm very much interested in spending more time with these lovely ladies.
Bright Lights: Starring Carrie Fisher and Debbie Reynolds is an intimate portrait of Hollywood royalty, in all its eccentricity. At 83 years old, grand dame Debbie Reynolds (star of "Singing in the Rain,") still performs a Las Vegas act, dressed in gold lamé. But performing takes its toll, and Debbie's health suffers. This devastates her daughter, "Star Wars" actress Carrie Fisher, whose response is both hilarious and heart-rending. Carrie is helpless in the face of her mother's determination that "the show must go on."
Through vintage family films, iconic old-world Hollywood history comes to life. Rich cinema verité also takes us to into the heart of Beverly Hills today, where Carrie and Debbie live together. This is a film about show business, and bittersweet family love.
Bright Lights: Starring Carrie Fisher and Debbie Reynolds premieres January 7, only on HBO.