Will iPhone Theater Mode Prevent (Or Encourage) Phone Users Ruining Your Movie Theater Experience?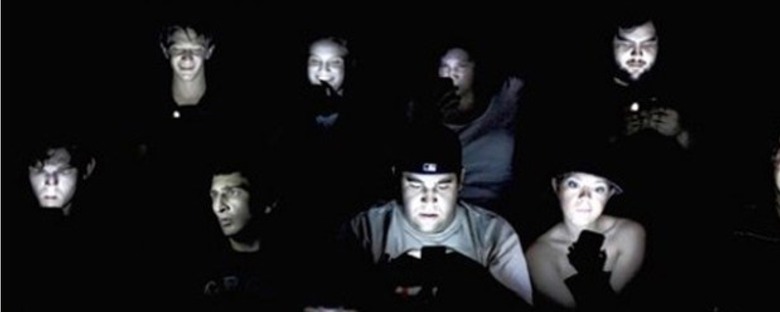 A new leak seems to suggest that the next update to iPhone's iOS operating system may introduce a new movie theater mode which should make use of the iPhone less distracting in the cinema environment. Hit the jump for more details on the iPhone theater mode.
The rumor comes thanks to notable Apple leaker Sonny Dickson, who says that the upcoming iOS 10.3 update will feature a "new Theatre Mode" which will add popcorn-shaped icon to the control center. Details are pretty thin right now, but according to Dickson, the mode could essentially be a dark mode. The iOS 10.3 beta one is scheduled to seed on January 10th 2017 and is code named "Erie." Many are speculating that the new mode will both turn off notifications and dim the screen brightness to the lowest setting.
The iPhone already has a "Do Not Disturb" function in the Control Center that that shuts off notification sounds, so you would think this new theater mode would do more than to dim your screen's brightness. So maybe there is something more to this.
Some tech sites are already writing this off as the end of times like Apple is going to be encouraging people to text and use their phone while they are in the movie theater. Wake up call, that is already happening. I can't remember a public movie screening I've been to in the last few years where I didn't at one point spot someone on their phone. And honestly, this usually is an issue of brightness. People who use their phone in the movie theater almost never lower their brightness or try to conceal their usage under their jacket or whatever. These are people who generally don't care about the people around them. The question is: will a new popcorn icon convince some of those people to turn their phone to "Theatre mode" before a movie begins? Heck, if it convinces a few people it's probably worth it right?
I've theorized for years now that movie theaters and Apple should collaborate on a new technology that would prevent phone distractions during movie screenings (and other performance-like events). In June 2011, I wrote a post titled What If Your Cellphone Wouldn't Allow You to Use It During a Movie Screening?. In the post, I proposed the idea that Apple should build a system which would not allow people to pick up a phone call or respond to a text message while inside a movie theater.
The phone would be in lock mode while in the theater, from the time the trailers start until the end credits hit. And better yet, the technology would put all iPhones on minimum brightness, which would be less of a disturbance. So even if someone turns on their phone to check the time, it will not distract as many people from the film. Don't get me wrong, I understand that some people need the ability to receive urgent calls/txts — doctors, parents...etc. I'm not saying that the ability to check one's phone should be completely disabled — for example, you would still be able to see someone is calling, just not able to pick up or return the call until he leaves the theater. You would be able to read the txt message, just not be able to respond.
The response to that idea was very mixed. It turns out people don't want private companies to have control of their technology, even if they aren't the rude one texting and looking at Facebook during Rogue One: A Star Wars Story on opening night. Also blocking phones in the movie theaters in this manner would probably be illegal, as there are probably FCC laws that would prevent a company like Apple from releasing a system like that. Apple has more recently patented a way for concert venues to prevent iPhone users from recording performances that artists want to protect, done through an infrared beam that would prevent the operating system camera functions.
This new Popcorn mode could be a step in the right direction, however. If the leak turns out to be true, I just wonder what it might actually entail.