Watch Director Justin Lin's 'The Jetsons' Live-Action Commercial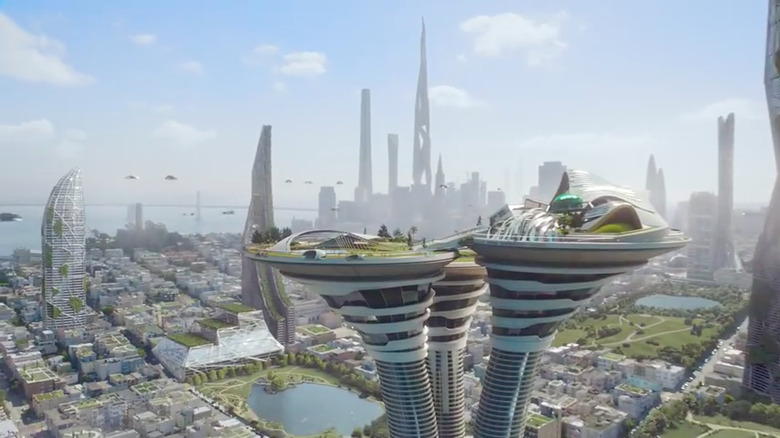 There have been conversations surrounding a live-action version of The Jetsons for many years now. For a while, Robert Rodriguez was attached to direct, and he even shot some tests for the film. He left the project before returning to it, but for unknown reasons, he exited the director's chair a second time. Last year, Warner Bros. got the ball rolling on an animated Jetsons film, but we've heard little about it since. It looks like we won't see a live-action Jetsons movie anytime soon, despite Yeezy's best efforts, but at least we can see director Justin Lin (Star Trek Beyond) bring the Jetson family to real life in an ad.
Below, check out Justin Lin's The Jetsons live-action commercial.
The Furious 6 director and Arconic teamed up for this fun reimagining of the popular 1960s cartoon, which saw a resurgence in the 1980s, thanks to reruns, and led to a 1990 animated movie which underperformed at the box-office. In this version of The Jetsons, George Jetson and Jane work for Arconic, while Judy attends architecture classes in Paris and Elroy goes to school in San Francisco.
Here's Justin Lin's The Jetsons live-action commercial, which already has over three million views on YouTube:
On Arconic's website, the company explained why they chose The Jetsons to represent their forward-thinking approach:
The Jetsons sci-fi cartoon series launched in 1962 and was set 100 years in the future. An instant hit, it presented an entertaining yet surprisingly forward-thinking vision of 2062. It's amazing to see how much The Jetsons got right, predicting things like smartwatches, tablets and 3D printing; and that made us wonder what else might still be in store. Flying cars? Extraordinary buildings? So we gathered a brain trust of leading futurists and our own engineers to share their thoughts on what Arconic could help realize in 2062, and brought their vision to life with the help of film director Justin Lin.
Here's a behind-the-scenes video for Lin's commercial, featuring some predictions for the future of cars, buildings, and more:
Framestore handled the ad's visual effects, which are very impressive. They most recently worked on Fantastic Beasts and Where to Find Them, and their work here is excellent. The commercial has some playful ideas and effects, capturing what you'd want to see from a modern live-action version of The Jetsons. It's also always great to see daytime science-fiction. Focusing on a bright, sunny day feels right for a commercial about forward-thinking. Also, while Astro isn't in the commercial, there is a nice little nod to the Jetsons family's dog.