'Valerian And The City Of A Thousand Planets' Photo: Meet Ambassador Dan Makta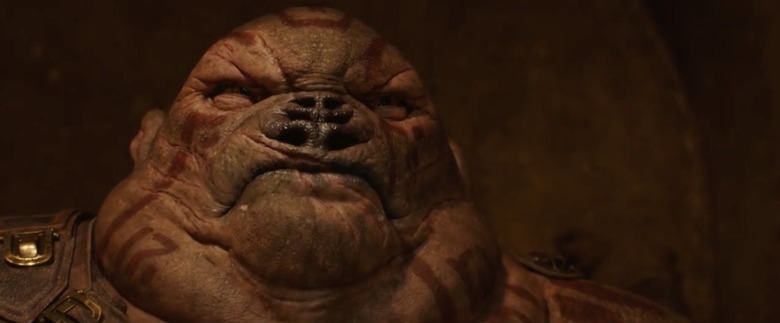 There are over 2,000 different alien species in Valerian and the City of a Thousand Planets. Two years before filming, director Luc Besson was gathering drawings and designs for all the film's aliens and space crafts. He even wrote to schools to see if any young artists were interested in contributing to the movie. They received over 2,000 applicants, and 15 were selected. Besson wanted to use different sources to create this wild-looking universe, which uses both CG and practical effects to bring all the aliens to life, including Ambassador Dan Makta, who's shown in a new photo from the sci-fi adventure.
Below, check out a new Valerian and the City of a Thousand Planets alien photo.
Based on the French comic book series from writer Pierre Christin and illustrator Jean-Claude Mézières, Valerian follows time and space-travelling special operatives Valerian (Dane DeHaan) and Laureline (Cara Delevingne), partners tasked with keeping the peace in the universe. Their latest mission brings them to Alpha, an ever-expanding city with over seventeen million inhabitants. The footage shown at Comic-Con teased the massive, colorful environment, packed with a variety of memorable alien designs.
Here's one of the aliens you'll see in Alpha, Dan Makta (Source: Empire):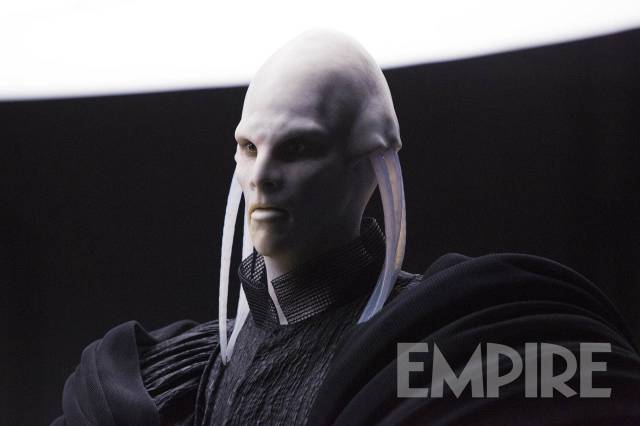 Besson explained to Empire the aliens in his film aren't your typical movie aliens:
Most of the time when you see aliens in a film, they're trying to destroy things. But Alpha is the city of science and culture: everybody is exchanging knowledge. It's a very rich world.
The director told editor in chief Peter Sciretta earlier this year that Alpha is a "city of science, Broadway, Wall Street, Shibuya, Pigalle," where you can find "everything you want in one place." Even the United Nations is based there. Alpha is a place full of power and knowledge, which some evil characters possibly want to take control of in Besson's film, which co-stars Clive Owen, John Goodman, Rihanna, Rutger Hauer, and Ethan Hawke.
Here's the official synopsis for Valerian and the City of the Thousand Planets:
Valerian (Dane DeHaan) and Laureline (Cara Delevingne) are special operatives for the government of the human territories charged with maintaining order throughout the universe. Valerian has more in mind than a professional relationship with his partner, blatantly chasing after her with propositions of romance. But his extensive history with women, and her traditional values, drive Laureline to continuously rebuff him.
Under directive from their Commander (Clive Owen), Valerian and Laureline embark on a mission to the breathtaking intergalactic city of Alpha, an ever-expanding metropolis comprised of thousands of different species from all four corners of the universe. Alpha's seventeen million inhabitants have converged over time- uniting their talents, technology and resources for the betterment of all. Unfortunately, not everyone on Alpha shares in these same objectives; in fact, unseen forces are at work, placing our race in great danger.
Valerian and the City of the Thousand Planets opens in theaters July 21st, 2017.