New 'Star Wars Rebels' Promo Teases The Return Of Saw Gerrera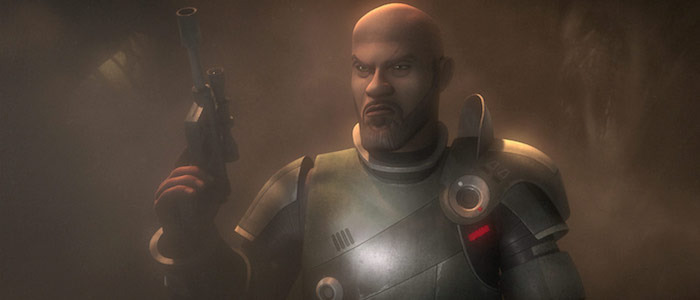 We've written before about how Rogue One: A Star Wars Story really doubles down on the interconnectedness of the new Star Wars canon, finding ways both obvious and subtle to tie the first standalone film to the larger universe. While Gareth Edwards' film makes its exact position in the series' timeline very clear before the credits roll, it also establishes a number of connections to the animated Star Wars television series, offering tiny easter eggs and major characters borrowed from Star Wars: The Clone Wars and Star Wars Rebels.
The most obvious of the bunch is Saw Gerrera, who made his debut on The Clone Wars as a young man, appeared in live action as an older man (played by Forest Whitaker), and will soon pop up on Rebels as a slightly younger version of that older man. A new promo for his episode has arrived, offering a pretty good look at what we can expect from his return to the small screen.
Saw's Rebels debut will come "Ghosts of Geonosis," a special two-part episode airing this Sunday on Disney XD. As you can see in the footage below, it looks like the crew of the Ghost are sent on a mission to track down the extreme rebel leader, only to find themselves embroiled in something a little bigger.
While Whitaker returns to lend his voice to Saw, this looks like a very different man than the one we met in Rogue One. Although he's still wearing that bulk armor, each of his limbs appears to be intact and he seems capable of breathing just fine. Will "Ghosts of Geonosis" explore the injuries that transformed him into the wreck we saw in Rogue One or will that  development be saved for a future story?
This promo arrives shortly after Lucasfilm president Kathleen Kennedy talked about Saw Gerrera continuing to play a large role in the Star Wars universe moving forward. In addition to appearing in The Clone Wars, Rebels, and Rogue One, the character also plays a key role in the Star Wars: Catalyst novel and is referenced in Star Wars: Bloodline, where Senator Leia Organa recounts how his extreme actions continue to taint the Rebel cause years after the destruction of the second Death Star. He's an interesting character and one who effectively managed to explore the gray side of good causes. In a universe as black and white as Star Wars, he's a complex and welcome presence.
"Ghosts of Geonosis" will air this Sunday, January 7, at 8:30pm ET/PT on Disney XD.