Cool Stuff: Life-Size Groot, Unreleased Jurassic Park, Signed Pixar Concept Art And More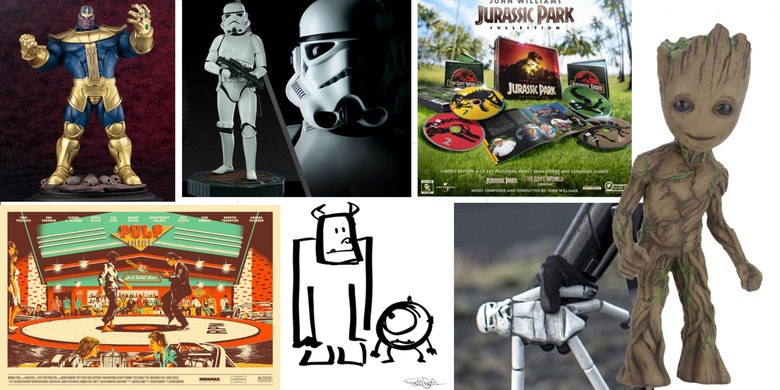 Over the last decade of /Film, we've tried to feature the latest geek collectibles, prints, books and toys alongside our regular coverage of movie and television news.  Sometimes it has taken the form of a standalone "Cool Stuff" post, other times it was in a round up like Superhero Bits or the now defunct Page 2 and Toy Box. As it turns out, it's very hard to commit to a daily or weekly round-up of this kind of things, especially when we don't know when products worth writing about will be announced or released.
So the solution I came up with was to produce "Cool Stuff" round-ups on an organic semi-regular basis, determined solely by when enough cool products present themselves. After the jump, enjoy the first installment of the Cool Stuff round-up which includes Guardians of the Galaxy, Star Wars, John Williams, Pulp Fiction, Pixar, Jurassic Park, Rogue One and more. Think of it as a Christmas buying guide for geeks, but published all year round.
And if you don't like this, please know this is all Adam Goldberg's fault (apologies in advance to Adam's wife for any purchases that are made because of this).
NECA has announced they will be producing a life-size replica of Baby Groot from Marvel's upcoming Guardians of the Galaxy Vol 2.
Add some pint-sized protection to home or office with this life-size Groot replica from Marvel's Guardians of the Galaxy Vol. 2! Groot stands 10? tall and was created using the actual digital files used in making the movie for screen accuracy. The figure is made of foam rubber and latex that's hand painted for incredibly lifelike detail. Tray box packaging.
The Guardians of the Galaxy, Vol. 2 Life-size Foam Figure Groot is available for pre-order now for $29.99, and is expected to arrive in April 2017.
La La Land Records have released a limited edition run of the complete John Williams scores of Jurassic Park and The Lost World on CD with tons of unreleased/unheard music.
La-La Land Records, Universal Studios, Universal Music Special Markets and Amblin Entertainment present THE JOHN WILLIAMS JURASSIC PARK COLLECTION, a special limited edition 4-CD set featuring newly remastered and expanded reissues of maestro John Williams' (JAWS, STAR WARS, SCHINDLER'S LIST) original motion picture scores to the 1993 blockbuster JURASSIC PARK and its 1997 follow-up THE LOST WORLD: JURASSIC PARK, both directed by Steven Spielberg. Williams' monumental JURASSIC PARK scores are integral to the franchise's worldwide phenomenon. Teeming with action, drama, humor and heart, they rank among the celebrated composer's most accomplished works. This deluxe edition, meticulously produced, edited and mastered by Mike Matessino, in consultation with the composer, director and producers, finally showcases these master works in a worthy, definitive presentation, with additional music never before released. The set's 56-page booklet features exclusive, in-depth liner notes by Matessino and elegant art design, packed with amazing images, by Jim Titus. This is a limited edition of 5000 units. Life indeed "finds a way," and these indelible Williams scores make the journey a thrillingly wonderful trip!
You can see a complete track listing on the lalaland website which the unreleased material denoted. The set is on sale for $59.98 while supplies last.
Gallery Nucleus in Los Angeles is exhibiting the Pixar Art Collection through January 8th, 2017. Pixar and Disney Fine Art have released 17 images hand-picked by John Lasseter, one image to represent each Pixar film. Each limited edition print is signed and numbered out of 95 on archival paper and will include a Certificate of Authenticity.
Now I won't lie to you; these pieces are EXPENSIVE. But Pixar rarely licenses their concept art as official prints, so if you want to get your hands on something special (or give a really special gift to a Pixar fan), one of these prints might be the way to go. I purchased the Monsters Inc SULLIVAN AND MIKE sketch by Pete Doctor, and it looks fantastic framed.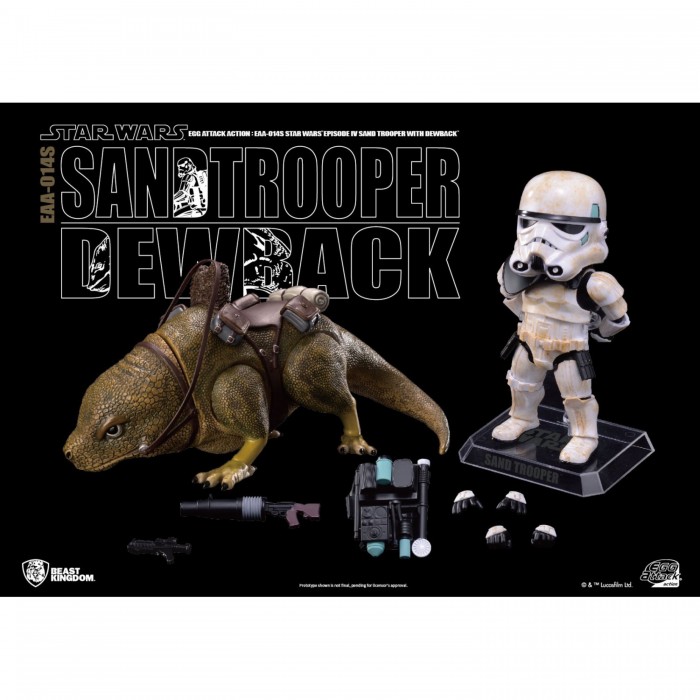 The Egg Attack Action Star Wars Episode IV A New Hope: Dewback & Imperial Sandtrooper is a cute vinyl release featuring a sandtrooper from Tatooine and his favorite lizard friend.
Beast Kingdom's introduces the popular Dewback from Star Wars: A New Hope, its hide is incredibly detailed, with each scale coming to life, and skilled ornamentation adding layers. Made of vinyl, it has 10 movable joints: the head, 4 legs, 4 ankles, and its tail, and also comes with saddlebags, bringing out a certain cuteness.
The Dewback possesses ten movable joints, while the Sandtrooper possesses 24 movable joints. The product includes: Orange captain's epaulette, three interchangeable hands (for Sandtrooper), E-11 blaster rifle and T-21 light repeating blaster, SD-48 survival pack, and a special stand. The figure will be released sometime in quarter 2 of 2017.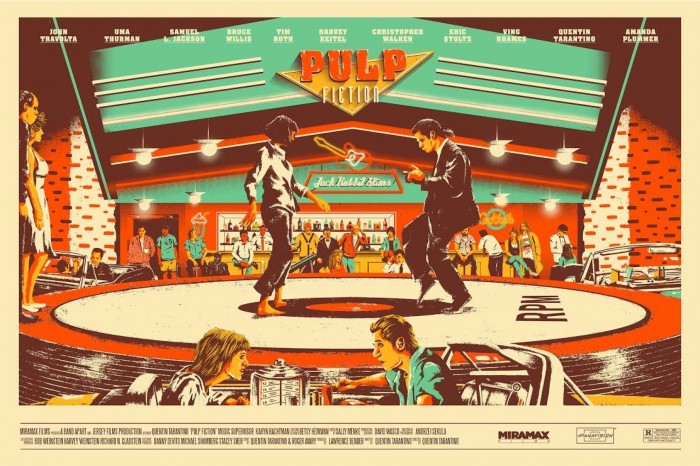 Take a look at "Jack Rabbit Slims" by Marie Betgeron. This retro four color screenprint is printed on 36"x24" paper. Limited edition artist proofs of this excellent Pulp Fiction print are for sale for $80.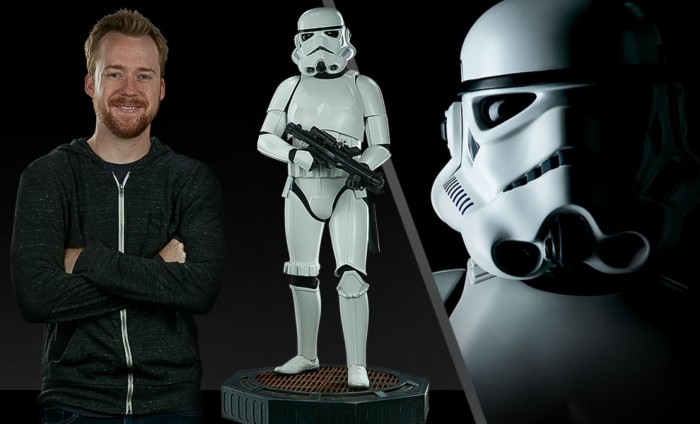 Sideshow Collectibles have announced their upcoming Stormtrooper Legendary Scale Figure.
The Stormtrooper Legendary Scale™ Figure from Sideshow is a 1:2 scale representation of one of the most feared soldiers in a galaxy far far away. Standing at a massive 38" tall, this Stormtrooper is a highly detailed recreation crafted out of fiberglass, resin, and fabric. Each detail is a screen accurate portrayal of the Empire's elite fighting force. The artists at Sideshow have worked to ensure that collectors of our Star Wars line of Legendary Scale Figures are receiving pieces that will become proud centerpieces in their homes.
The Stormtrooper Legendary Scale will be available sometime within the November 2017 to January 2018 timeframe, but it can be pre-ordered now for $2250. Very cool but at that price, I feel like you should be getting a life-size replica.
Kotobukiya has produced a 1/6 Scale Thanos Marvel Fine Art Statue.
Thanos stands an incredible 15 ½ inches tall in 1/6 scale as he poses on the skulls of his defeated enemies. Guaranteed to make a big impact in your collection, this Fine Art Statue is the quintessential collectible of the iconic Marvel villain.
Available for $299, and expected to arrive in January 2017.
Finally, does your children want a handmade Stormtrooper doll like the one young Jyn Erso had in Rogue One: A Star Wars Story? Etsy seller StormtrooperCrafts is producing replicas of this on-screen prop.
This is an 11" tall polymer clay figurine strung together with thick waxed cotton cord. It is a replica of the Stormtrooper doll seen in Star Wars Rogue One. As this item is hand sculpted and painted; they may slightly differ from the pictures you see here. Yours will be unique and one of a kind. This item is made to order and can ship within 6 weeks.