UPDATED: 'Beauty And The Beast': Hear Emma Watson Singing "Something There"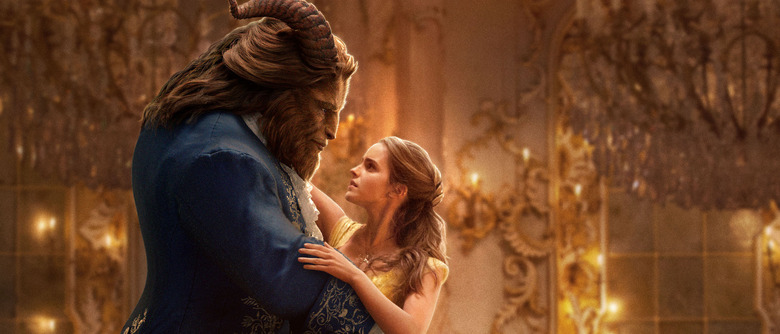 UPDATE: We have an official audio clip of Emma Watson singing that is much better quality. You can watch it after the jump. Our original story from December 30th follows.
The Beauty and the Beast trailers released so far have made it all too easy to forget this is a straight-up musical. Yes, you hear the familiar strains of the soundtrack playing over the scenes, but there hasn't been a whole lot of song and dance teased so far. So we're still waiting to hear exactly how this new cast will fare with those classic tunes.
Well, today we've got the first tiny taste of a song from the movie. Click through to hear a snippet of Emma Watson singing "Something There" in Beauty and the Beast. 
UPDATED CLIP: Here's the official clip of Emma Watson singing in Beauty and the Beast:
Here's your exclusive first listen of @EmmaWatson​ singing 'Something There' from Beauty and the Beast. #BeOurGuest pic.twitter.com/AWpcrDmELY

— Beauty and the Beast (@beourguest) December 31, 2016
Our original story from December 30th continues below.
Like so many premature reveals, this one comes to us thanks to a tie-in toy. Beauty and the Beast co-producer Jack Morrissey shared this recording of Watson's voice coming from a Belle doll.
???? Well there it is, straight from the shelves at Toys R' Us...???? ??? @The_West_Wing_ : Get ready for this one guys... FIRST LISTEN AT EMMA SINGING "SOMETHING THERE"!!!! I am officially floored, if she wasn't perfect enough this has absolutely nailed her as #Belle! I cannot wait for this movie!!! ???????? Recording taken from the singing Belle Hasbro doll! Not sure who to credit though, sorry! . #BeautyandtheBeast #Disney #EmmaWatson #Belle #BillCondon #BeOurGuest #taleasoldastime
The audio is not the best quality (since, again, it's a recording of a recording coming out of the mouth of a children's toy) but it seems like Watson is doing just fine. For comparison, here is what the original sounds like.
Beauty and the Beast is in theaters March 17, 2017, which means it shouldn't be too long before we start seeing more from this movie, including a better look at the musical numbers. Personally, I can't wait to see the first clip of Josh Gad and Luke Evans doing "Gaston."
Bill Condon directs Beauty and the Beast, and Dan Stevens, Kevin Kline, Emma Thompson, Ian McKellen, and Ewan McGregor star with Watson. Here is the official synopsis:
Disney's new Beauty and the Beast movie is a live-action re-telling of the studio's animated classic which refashions the classic characters from the tale as old as time for a contemporary audience, staying true to the original music while updating the score with several new songs. Beauty and the Beast is the fantastic journey of Belle, a bright, beautiful and

independent

young woman who is taken prisoner by a beast in his castle. Despite her fears, she befriends the castle's enchanted staff and learns to look beyond the Beast's hideous exterior and realize the kind heart and soul of the true Prince within.