Theme Park Bits: 'Star Wars' Construction Updates, New Waterpark Patents, And Ride Refurbishments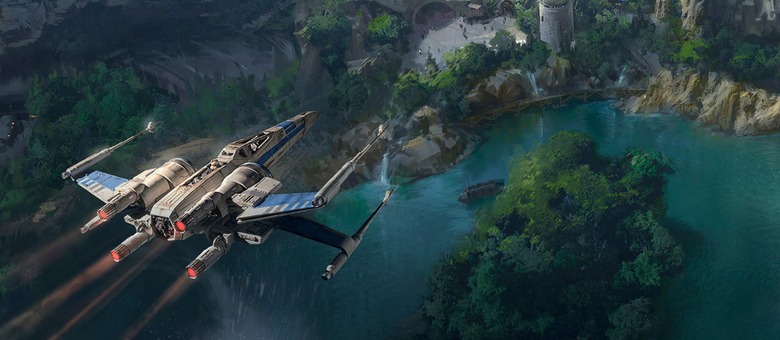 In this edition of Theme Park Bits:
An updated look at Star Wars land at both Disneyland and Walt Disney World.
Universal Studios files some very interesting waterpark patents.
Disneyland Paris' Big Thunder Mountain Railroad reopens following a lengthy refurbishment.
Universal Studios' Waterworld show is undergoing some renovations.
How the Grinch stole the Universal Studios backlot tour.
A few weeks ago, we looked at some of Universal Studios' new theme park patents that were clearly intended to be used in the upcoming Super Nintendo World, While those grabbed the headlines (and for good reason – they're pretty incredible), they also filed a few new waterpark designs, presumably for future use in their new Volcano Bay waterpark. One design is a more complex "mat racer," where the typically flimsy ride vehicle can be updated with audio and visual enhancements. The other is a water slide that drops the rider after submerging them in a tank of water. You can check out the full details over at the Orlando Business Journal.
After 13 months of renovation, Big Thunder Mountain Railroad at Disneyland Paris has officially re-opened. In addition to the (literal) new coat of paint, the ride now climaxes with the explosive finale seen at Disneyland in California. You can watch footage of the ride above and Disney and More has taken a whole bunch of photos.
Speaking of renovations, Universal Studio's Waterworld: A Live Sea War Spectacular will close in January for a three month refurbishment, re-opening in April. While you won't find many people who remember the Waterworld movie fondly, this live show has been a staple at the park for over twenty years and it continues to pack people in. That Universal is refurbishing it again in evidence that they plan to keep it around for some time.
The holiday season may be coming to a close, but the Grinch did hijack the Universal Studios Hollywood tram tour and there's video evidence. So let's close out December with a furry, green bang,
For those who walk from Mickey & Friends: Here's a map of the new path pic.twitter.com/ICsnyeRf4b

— Guy Selga (@guyselga) December 15, 2016
If all of the construction in and around Disneyland is getting a little overwhelming, just know that there are people out there making maps to help you get used to the new lay of the land. Like this helpful tweet by Guy Selga, which shows the new path to the park from the Mickey and Friends parking lot.
Entering #StarWarsLand (kinda) for our first time! pic.twitter.com/UCJNCT36fV

— Parks And Cons (@ParksAndCons) December 27, 2016
Of course, the main construction going on right now at Disneyland is Star Wars Land, which is still a few years away from completion. However, things are far enough along that you can now see the basic shape of future scenery. It's not much, but it's certainly more enticing than the big pile of dirt that was sitting there just a few months ago. This feels like a promise, not a construction site.
#StarWarsLand at #DisneyWorld is just dirt, while #Disneyland is way past dirt! pic.twitter.com/0l7YsGHSek

— Universal Core (@Universal__Core) December 22, 2016
Meanwhile, Star Wars land at Walt Disney World in Florida has yet to go vertical and still looks like a barren construction site. We don't have official opening dates for either version of Star Wars land yet, but it's starting to look like the West Coast version will debut first.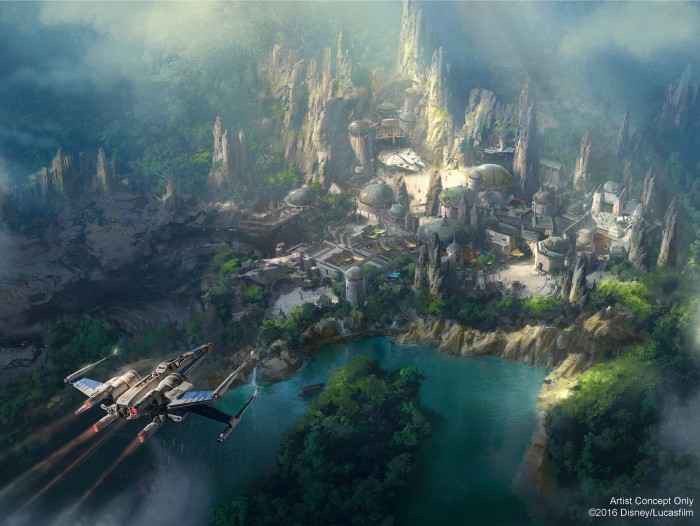 For a different view of Walt Disney World's Star Wars land, you can head over to WDW Magic, who have some new aerial photos of the site. It's still a big pile of dirt from the air, but at least you can see the basic shape of the area and better understand how it will fit into the Hollywood Studios theme park. They also have aerial shots of the new Toy Story Land, which also looks like a massive mound of dirt at the moment.