VOTD: Carrie Fisher Gave Debbie Reynolds The Tribute She Deserved Just Last Year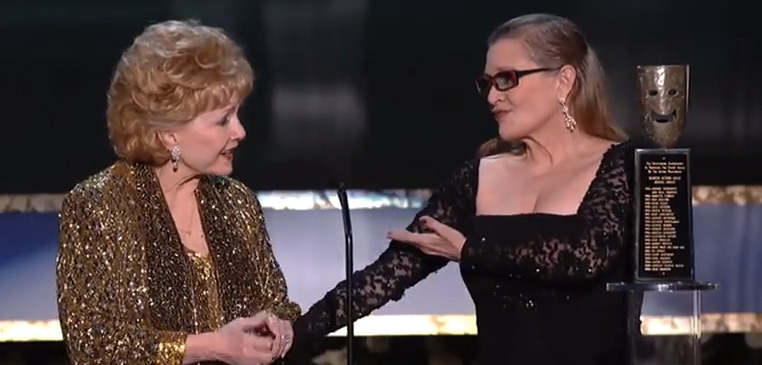 This week delivered the tragic one-two punch that was the death of actress and writer Carrie Fisher, followed by the death of her classic screen icon mother Debbie Reynolds just one day later. The two women made huge waves in the entertainment industry and won't soon be forgotten thanks to their place in the history of cinema and television.
We've already seen countless colleagues and friends pay tribute to Carrie Fisher, and we remembered the actress' irresistible charm by way of a series of videos showing her blunt, candid sense of humor. Now it's time to watch Carrie Fisher honor her late mother as only a daughter can when the Singin' in the Rain star was presented with a Lifetime Achievement award at the Screen Actors Guild Awards last year.
Watch the Carrie Fisher tribute to Debbie Reynolds from the SAG Awards below.
This is so bittersweet to watch now that we've lost both of these wonderful women. It's easy to see where Carrie Fisher gets her candid nature and charming personality as you listen to Debbie Reynolds reflect on her 66 years of acting in Hollywood. And it's so wonderful to see how the mother and daughter duo like to rib each other while still giving the utmost respect and love.
Debbie Reynolds is an icon of the silver screen, and she paved the way for her daughter to become a strong female figure on film. Show business families like this don't come around all that often anymore, and I guess Debbie Reynolds just couldn't stick around without her daughter Carrie Fisher here to keep her company. Our thoughts go out to all their family and friends during this unfathomably difficult time.