Kathleen Kennedy Teases More Saw Gerrera In Future 'Star Wars' Projects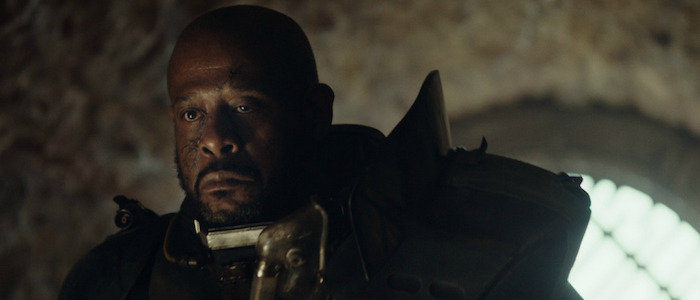 Lucasfilm president Kathleen Kennedy says that the character of Saw Gerrera, introduced in Star Wars: The Clone Wars before making the leap to live action in Rogue One: A Star Wars Story, will probably be further explored in future Star Wars projects. And since he's one of the most intriguing recent additions to the canon, this is something I hope they do end up exploring.
This piece of news comes from Empire's complete history of Rogue One article, where Kathleen Kennedy reveals that Saw's role in the film is much smaller than originally intended and that they plan to "explore" him further elsewhere:
To be honest, we originally thought we were going to develop Saw into something much larger, but we couldn't accommodate it. So he is not in the movie as much as we would like to have him in the movie, which creates the opportunity to explore his character even further in our future development.
Forest Whitaker, who plays Saw in the film, has no idea what's coming next but is totally down with this plan:
I'm curious about what else they're about to do. Because they seem to really like the character, which is great!
We already know the next step for Saw Gerrera: he will put in an appearance on Star Wars Rebels next year, with Whitaker playing him once again. Between his younger days explored in The Clone Wars, his small but vital role in the Star Wars: Catalyst novel, and his contributions to the plot of Rogue One, we now know the basic shape of this guy's life. However, it's still not entirely clear how he went from spirited rebel fighter to deranged, cyborg guerrilla insurgent, so bring on the comic book miniseries or spin-off novel or whatnot.
While fans seem to be a little mixed on Gerrera in Rogue One, I find him fascinating. Whitaker's downright bizarre performance is something to treasure (between that and Arrival, he's the king of weird accents this year), and the character injects a welcome shade of grey into the generally black-and-white war between the Empire and the Rebellion. For the first time, the Rebel Alliance is depicted as not being entirely unified, with some of its factions using terroristic tactics to battle the enemy. Saw sinks to depths that would make Luke and Leia's skin crawl and I'd love to know more about how he allowed himself to justify his decisions. After all, the Star Wars: Bloodline novel references his vicious actions as being a point of contention decades after the Battle of Endor.
Meanwhile, Star Wars Rebels returns on January 7, 2017.