Carrie Fisher, American Treasure: Watch Some Of Her Finest, Funniest & Strangest Moments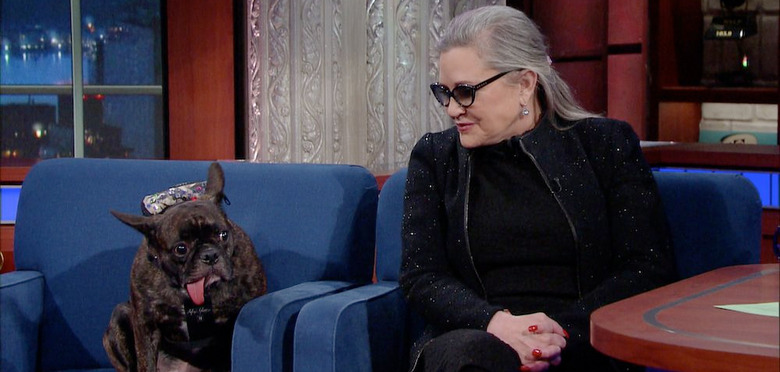 We may receive a commission on purchases made from links.
It's still shocking to think about, but American treasure Carrie Fisher is no longer with us. She has been continuously remembered and mourned by her friends and colleagues since news of her passing was reported yesterday. Meanwhile, her fans have nothing but love and respect to give as well, not just for her career in entertainment, but for her honest, helpful voice discussing mental illness, alcoholism, and drug abuse.
Even though we didn't know Carrie Fisher, it's easy for us to feel like we did having experienced her bright personality for decades. Therefore, it's important to remember at her best. While we know all about her best moments on film in Star Wars, When Harry Met Sally, The Blues Brothers and more, there are plenty of other shining moments that give us infinitely more reasons to love the best of Carrie Fisher.
Audition for Star Wars
Here's Carrie Fisher's audition for Star Wars, where she read with Harrison Ford (who can be heard but only seen from behind). In it, she's very natural and genuine, even as she's talking about something as unreal as a space station that can destroy an entire planet. She's not quite as sassy as the final version of the character would be, but her charisma is still on display. And she can clearly hold her own against Harrison Ford, something that would become a staple of her performance as the saga continued.
Carrie Fisher hosts Saturday Night Live
In 1978, after becoming a huge star thanks to Star Wars, Carrie Fisher was given the honor of hosting Saturday Night Live. She came out to open the show in her signature Princess Leia outfit, including the hair buns, where she has a back and forth with the spirit of Obi-Wan Kenobi to discuss some of the jokes she should do. Then the show takes a turn into a sketch where Fisher, still dressed in her Princess Leia garbs, heads to a beach party, strips down to a bikini (not the one from Return of the Jedi) and then gets hit on by a creepy Bill Murray character. It's all kind of strange, but hey, it was 1978.
Carrie Fisher helps Warwick Davis
Here's a rare look behind the scenes of Return of the Jedi in the form of a clip from a mockumentary short called Return of the Ewok. The film by Return of the Jedi first assistant director and second unit director David Tomblin follows a young Warwick Davis around the set of the sequel (referred to as Revenge of the Jedi in the above clip) as he tries to find other Ewoks, worried that he's the only one. Carrie Fisher appears in her signature slave outfit from Jabba's palace in an attempt to help out with Harrison Ford and Mark Hamill.
Carrie Fisher roasts George Lucas
As Carrie Fisher jokes in this American Film Institute Lifetime Achievement tribute to George Lucas, the director of the original Star Wars ruined her life. In this hilarious tribute to the filmmaker responsible for turning her into Princess Leia, she essentially roasts George Lucas and the legacy that Star Wars has created for her by turning her into a PEZ dispenser and giving her a "merry band of stalkers."
Carrie Fisher pays tribute to Harrison Ford
The actress opens with a variation on admitting she's an alcoholic, a trademark joke of hers when addressing a crowd. In this case, she's being honest, but using it as a way to poke fun at herself, which is classic Carrie Fisher. She remembers meeting Harrison Ford, her infatuation with him when she was just 19 on the set of Star Wars, and makes some playful jabs at the actor while honoring his life and career.
Carrie Fisher promotes The Force Awakens with her dog Gary
In an interview on ABC News, Carrie Fisher talked about Star Wars: The Force Awakens, accompanied by her adorable French bulldog Gary, who is rather famous on social media. In addition to Gary just being a great addition to the Star Wars marketing campaign, the interview itself is very candid and funny, showing what a great time you could have just talking to Carrie Fisher and listening to her be blunt about anything and everything. Also, the good news is Gary will be living with Fisher's daughter Billie Lourd now.
Carrie Fisher tries to sell Star Wars tickets with Ellen DeGeneres
Ellen DeGeneres has been friends with Carrie Fisher for awhile, so she was happy to toss on some hair buns and try to sell tickets to Star Wars: The Force Awakens for charity. It's just two great comedians having fun with complete strangers in Los Angeles.
Carrie Fisher explains why she didn't get a lightsaber
While appearing on The Late Show with Stephen Colbert, again with the lovable Gary, Carrie Fisher discusses why she didn't get a lightsaber in the Star Wars saga. Every conversation with this woman was a pure delight, and this one is no different. You can feel the love and admiration pouring off of Stephen Colbert in this interview too. Also, you should probably pick up her recent book, The Princess Diarist, right now.
Carrie Fisher and mother Debbie Reynolds on Oprah
Seriously, watch this entire episode of The Oprah Winfrey Show from 2011 when Carrie Fisher and her mother Debbie Reynolds dive into the most intimate moments and details of their life. It provides great insight into Fisher's life growing up, her struggles with drugs, alcohol and mental illness and so much more. It's a candid, honest and touching interview.
Carrie Fisher on Charlie Rose
For more honesty and insight into the life and mind of Carrie Fisher, this interview with Charlie Rose couldn't be better. It's about half as long as the Oprah Winfrey interview above but it's just as insightful, and hey, it's 20-some minutes of Carrie Fisher that you maybe hadn't seen yet.
Finally, here's a tribute that the BBC Orchestra did for Carrie Fisher featuring the iconic theme of Princess Leia from Star Wars. This orchestral arrangement is even more moving now, almost as a whimsical send-off for the late actress.
Carrie Fisher made Princess Leia memorable, turned her into a strong woman who was the first character we see standing up to Darth Vader without any fear whatsoever. And while Fisher undoubtedly helped make Star Wars great, that's just a small fraction of the incredible work she did in the entertainment world. She was an incredible writer, an amazing personality, and an important voice for people struggling with the same demons she did throughout life.