'I Am Michael' Trailer: James Franco Plays A Gay Activist Turned Ex-Gay Activist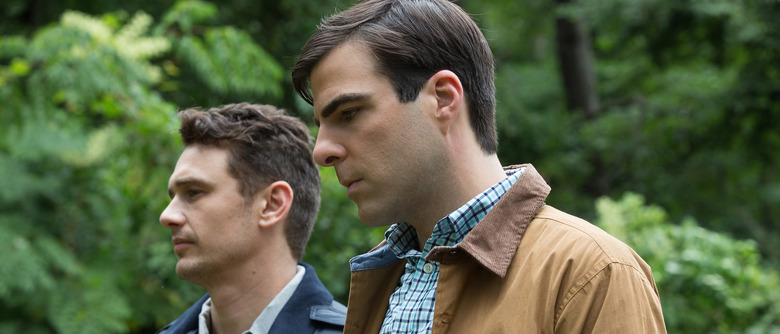 Never one to shy away from controversy, James Franco takes on the ex-gay movement in his next release. Directed by Justin Kelly, I Am Michael recounts the true story of Michael Glatze, a prominent gay activist who made headlines when he suddenly announced that he was renouncing his homosexuality, and went on to marry a woman and become a fundamentalist pastor.
Zachary Quinto plays Michael's boyfriend, Bennett, and Emma Roberts is Michael's eventual bride, Rebekah. Gus Van Sant served as executive producer. Watch the I Am Michael trailer below.
I Am Michael had its world premiere almost two years ago at the Sundance Film Festival. It's not hard to see why this film has taken a while to reach theaters. The story is remarkable (and you can read more about the real-life version of it here, here, and here) but it's also a tricky one to market given its lead's thorny arc. It probably doesn't help, either, that reviews at the time were mixed — The Guardian dismissed it as "dreadfully dull," while Indiewire's much more positive review notes that Franco "excels" here. If you're curious, though, you'll finally have your chance to check out I Am Michael when it opens in theaters and On Demand January 27, 2017.
I AM MICHAEL is the incredible true-life story of Michael Glatze (Franco), a high profile queer youth activist who created a national controversy when he claimed to no longer be gay and became a straight Christian pastor. The film follows Michael from his life in San Francisco with his boyfriend Bennett (Quinto), where he pursues political activism, a journalist career at XY Magazine, social awareness, and sexual exploration, to his days of personal self-discovery. After a traumatic scare, Michael is plagued by doubt and paranoia, and begins a religious reawakening. Michael renounces his gay lifestyle, rejects his friends, and endeavors to find his "true self." He explores Buddhism and Mormonism, yet ultimately lands at a Christian Bible school in rural Wyoming where he meets his girlfriend, Rebekah (Roberts), and becomes the pastor of his own church. This powerful new film captures one man's haunting journey through modern concepts of love, denial and redemption.