'Taboo' Trailer: Tom Hardy Has Indeed Sinned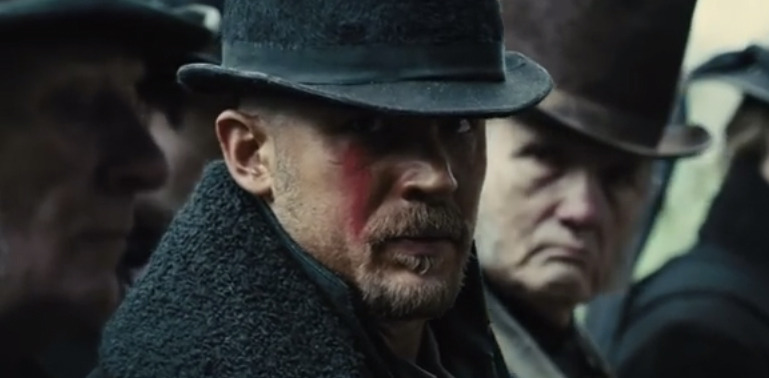 If there was one thing that the big screen needed more of this year, it was Tom Hardy. The actor was all over the place in 2015 with Child 44, London Road, Legend, The Revenant and of course, Mad Max: Fury Road. The only way to get your fix of a new Tom Hardy performance this past year was in the third season of BBC series Peaky Blinders, available on Netflix right now, and one of his projects in 2017 has him reteaming with series creator Steven Knight.
Taboo is coming to FX in January and it features Tom Hardy getting down and dirty back in 1814. Hardy plays James Keziah Delaney, a man who has changed drastically from who he used to be after spending enough time in Africa for those from his hometown in London to presume that he's dead. Now he's back, and he's quite the force to be reckoned with.
Watch a new Taboo trailer after the jump.
Not since Bill the Butcher in Gangs of New York has a man been so deadly and intimidating. This is one of those shows appearing to prove further why we're living in another golden age of television. This looks so good and carries so much dramatic weight that it feels like it could easily be a movie. Instead, it's an eight-part drama series that will allow us to spend even more time with this fascinating character and all the double-crossing that follows.
The series also stars Jonathan Pryce, Oona Chaplin, Stephen Graham, Michael Kelly, Jessie Buckley, David Hayman, Tom Hollander, Jason Watkins, Franka Potente, Jefferson Hall, Ed Hogg, Leo Bill, Christopher Fairbank, Richard Dixon, Mark Gatiss, Nicholas Woodeson, Lucian Msamati and Robert Parker.
Taboo hails from Steven Knight, who wrote and directed Locke, who co-created the series with Tom Hardy and the actor's father Chips Hardy, who is a consulting producer on the show. Ridley Scott and Kate Crowe are also executive producing for Scott Free along with Dean Baker and Tom Hardy through his Hardy Son & Baker banner. The first four episodes are directed by Kristoffer Nyholm while the second four episodes are directed by Anders Engström.
If you want to see more from the show, you can watch a batch of promos right here.
Set in 1814, Taboo follows James Keziah Delaney, a man who has been to the ends of the earth and comes back irrevocably changed. Believed to be long dead, he returns home to London from Africa to inherit what is left of his father's shipping empire and rebuild a life for himself. But his father's legacy is a poisoned chalice, and with enemies lurking in every dark corner, James must navigate increasingly complex territories to avoid his own death sentence. Encircled by conspiracy, murder and betrayal, a dark family mystery unfolds in a combustible tale of love and treachery.
Taboo debuts on FX on Tuesday, January 10 at 10pm ET/PT