'Rick And Morty' Season 3 Sneak Peek: The Duo Just Can't Take Galactic Danger Anymore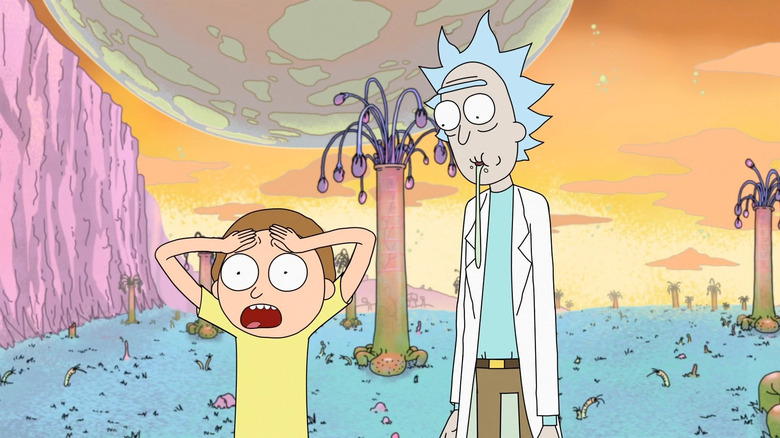 Even though we heard earlier this year that Adult Swim would bring new episodes of Rick and Morty to air before the end of 2016, that potential redemption for this awful year just won't be coming through. Instead, Rick and Morty's third season is coming sometime in 2017, and while we don't have a premiere date set yet, we do have a few minutes of footage from the new season to hold us over.
About a week and a half ago, a live stream allowed users to check out an Adult Swim "Development Meeting" that featured sneak peeks of upcoming shows in 2017, and that included this Rick and Morty season 3 sneak peek. Somehow it went unnoticed this whole time, but we have it now, and that's all that matters. However, if you watch the video below, beware of NSFW language since it's entirely uncensored at this time.
Here's the Rick and Morty season 3 sneak peek from "Rick Sanchez" on YouTube:
The animation is nowhere near complete and there are only a few sound effects inserted here and there, but the voices of Rick and Morty (both provided by writer, animator, director, producer, and co-creator Justin Roiland) are enough to make this worth watching.
We get to see Morty find out that his longtime crush Jessica is ready for a man in her life in a very specific way, just before Rick takes him on yet another intergalactic adventure. This time they're involved in a huge space battle with a giant monster that nearly kills them. But they get the job done, get their own Star Wars medal ceremony, and then promptly freak the fuck out when they're alone back in their spaceship.
What I love about the end of this sneak peek is this creation of the scene that we never get to see. At some point, the heroes of a sci-fi adventure just have to freak out and unwind, broken down by all the danger and near-death experiences they've encountered.
This is just a few minutes of the new season of Rick and Morty, and I already can't wait to see more. Again, we have no idea when the animated series will return to Adult Swim, but I hope it's soon. If there's one thing 2017 to make sure it's not as garbage-filled as 2016, it's more Rick and Morty. Here's hoping we at least get an official trailer for the show's return sometime soon.