'A Bad Moms Christmas' Will Get Naughty For The Holidays In 2017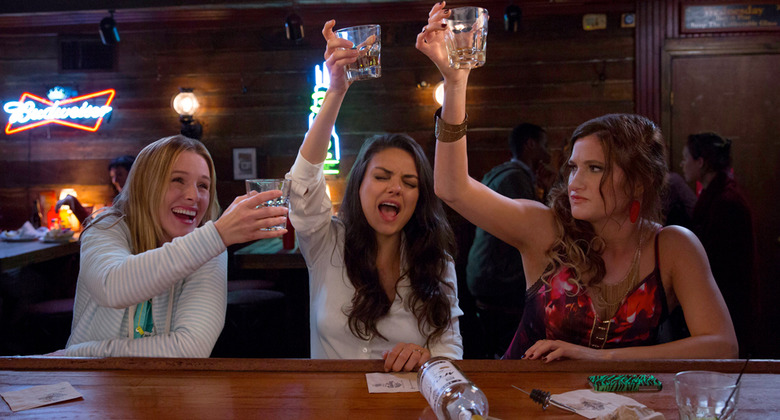 After Bad Moms took ins over $180 worldwide earlier this year at the box office, on a budget of just $20 million, STX Entertainment made the decision to quickly keep the franchise alive with a spin-off focusing on the other parents. Bad Dads was set for release on July 14, 2017, and it felt like an odd way to capitalize on the success of the film, especially without any of the original cast or writers/directors Jon Lucas & Scott Moore involved. But now Bad Moms is getting a sequel of its own too.
Find out more about the Bad Moms sequel after the jump.
STX Entertainment gave Bad Moms a Christmas gift over the weekend by announcing the forthcoming arrival of A Bad Moms Christmas. Yes, Mila Kunis, Kristen Bell and Kathryn Hahn will all return for a holiday-themed sequel, which is a much better approach to following up the original Bad Moms. This time we'll see the cast expand to include the previous generation of matriarchs as the "under-appreciated and over-burdened sisterhood must deal with the stresses of the most wonderful time of year as their own mothers visit for the holidays."
Here's the standard publicity fluff to go along with the announcement from Adam Folgelson, Chairman of the STX Entertainment Motion Picture Group:
"This is a brand that has enormous goodwill all over the world, so expanding and extending the BAD MOMS franchise in an authentic and irreverent way has been a priority for our team. Jon and Scott have a truly hysterical story that was pure perfection. Mila, Kristen and Kathryn are excited to re-team, and we will move forward with A BAD MOMS CHRISTMAS on a similar time table and in much the same way in which we produced the original."
Just having the mothers of the Bad Moms involved would have been interesting enough, but setting the sequel at Christmas, a time when parents are running all over the place to please their kids and extended family, it's easy to see what kind of comedy can come from watching this trio of mothers deal with the stress of the holidays. As ow now, no new cast members have been revealed, but the casting of each of the mothers of the Bad Moms will hopefully bring some veteran comediennes into the fray.
In addition to the return of Mila Kunis, Kristen Bell, and Kathryn Hahn, we'll have writers/directors Jon Lucas & Scott Moore back to do the same duties for the sequel. If they can capture the same magic that made the first film a success, but spice it up enough so it doesn't feel like a carbon copy of the original, that would be great. However, good comedy sequels can be hard to come by, so the odds are against them.
A Bad Moms Christmas will hit theaters on November 3, 2017.