'Baby Driver' First Look: Ansel Elgort And Jamie Foxx Are Ready To Shift Into Gear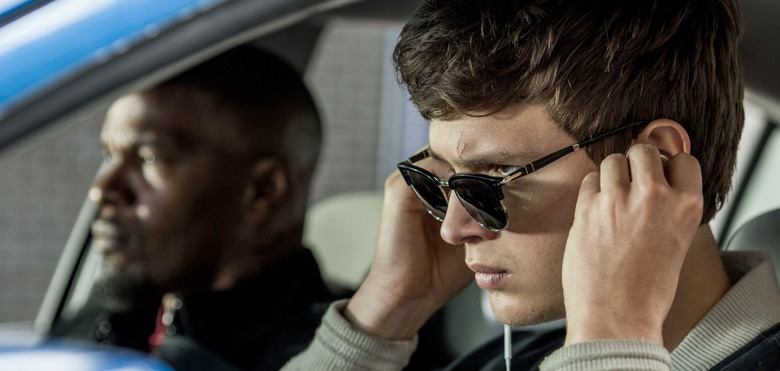 It's been over three years since we've gotten a new movie from Shaun of the Dead and Scott Pilgrim vs. the World director Edgar Wright, and that's a shame. But thankfully, we won't have to wait too much longer since he has a new action thriller come to theaters late in the summer of 2017.
Baby Driver follows a young getaway driver who is nearly mute and suffers from a condition that leaves a constant ringing n his ears, so he relies on his own personal soundtrack to drown out the noise so he can do what he does best. The first Baby Driver photos have emerged showing Ansel Elgort (The Fault in Our Stars) in the lead role, preparing for a music-fueled drive, as well as the supporting cast that includes Jamie Foxx, Jon Hamm and Elsa Gonzalez.
Here are the first Baby Driver photo from Entertainment Weekly:
The first photo shows Ansel Elgort with Jamie Foxx by his side as Bats, who has previously been described as an "impulsive gun-slinging cohort." They appear to be getting ready for a drive, presumably a dangerous one. The second photo features Jon Hamm as Buddy, "a handsome party animal" as well as Elsa Gonzalez as Darling, his "lawless and scandalous girlfriend and partner in crime."
My question is who the off-screen character is on the right. Could it be Kevin Spacey as Doc, the crime boss who forces the title character (yes, his name is Baby) to partake in a doomed heist? Or is it Jon Bernthal as a character named Griff? Surely we'll find out whenever the first trailer comes along.
As for what we can expect, Edgar Wright had this to say to EW about the movie:
"I always wanted to do an action movie that was powered by music. It's something that's very much a part of my previous films and I thought of this idea of how to take that a stage further by having a character who listens to music the entire time. So, you have this young getaway driver who has to soundtrack his entire existence, particularly the bank robberies and fast getaways that come afterwards."
The soundtrack will be a huge part of the movie as Wright says, "There's about 35 songs in the movie and they range from very famous to more obscure. It's supposed to reflect the character's extremely eclectic taste in music." But for now, he's not giving away any of the songs in the movie, preferring to wait until we get closer to the movie's release on August 11, 2017.