New 'It' Images: Pennywise The Clown Wishing You All A Happy Holiday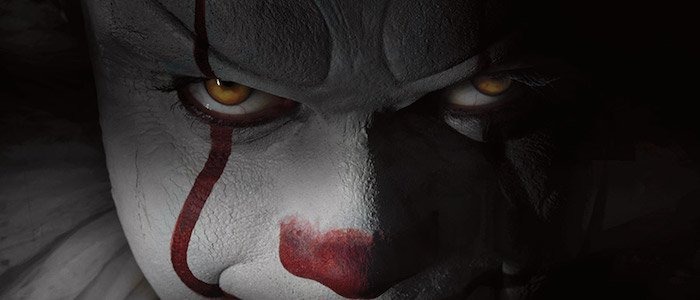 The new, long-gestating adaptation of Stephen King's It is currently (and finally) in post-production. Last year, the R-rated adaptation appeared in trouble after director Cary Fukunaga (True Detective) parted ways with New Line Cinema over some creative differences, which was a definite blow to the project. Director Andrés Muschietti's (Mama) ultimately stepped in, reworked the script, and shot the horror film over the summer, and he shared plenty of images during the shoot, teasing locations and parts from the book. Now a couple more images of Pennywise (Bill Skarsgård) has been released.
Below, see the Stephen King's It remake images.
Pennywise isn't terrorizing the "Losers' Club" in the '50s like he did in the book. Part one of the potential two-parter is set in the 1980s, but the story remains in Derry, Maine, where all sorts of horrors have occurred. Bill Denbrough (Jaeden Lieberher) is the leader of his gang of pals, and after he loses his brother George, who was killed and had his arm ripped off by Pennywise, Bill and his friends try to find a way to kill the shapeshifter. They won't ever see Pennywise turn into a wolfman or mummy, though, as the filmmakers have updated his transformations for the film.
Creature character designer and actor, Tom Woodruf Jr., shared this photo of Pennywise on Instagram:
#adi Pennywise makeup for 2017's IT.
A photo posted by Tom Woodruff, Jr. (@tom_woodruffjr) on
And Entertainment Weekly revealed this photo of Pennwise sneaking around today: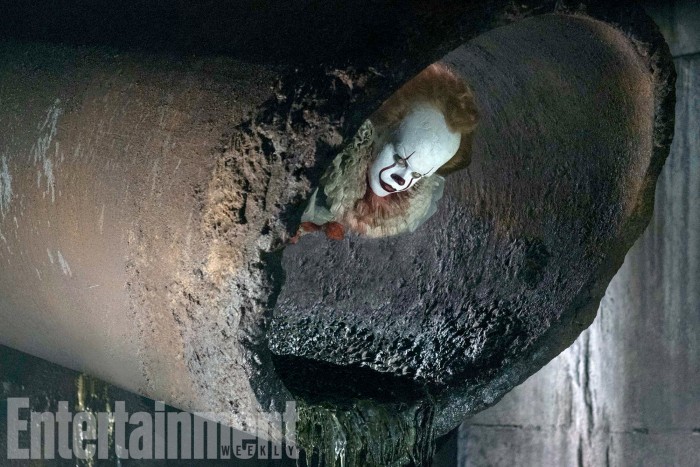 So far the reactions to the new Pennywise design have been divisive, but let's wait and see how this design suits Muschietti's version of King's story. It's a more childlike Pennywise — a younger face, for starters — and Skarsgård has said before the villain has a "childishness" to him:
It's such an extreme character. Inhumane. It's beyond even a sociopath, because he's not even human. He's not even a clown. I'm playing just one of the beings It creates. It truly enjoys the shape of the clown Pennywise, and enjoys the game and the hunt. What's funny to this evil entity might not be funny to everyone else. But he thinks it's funny.
There's a childishness to the character, because he's so closely linked to the kids. The clown is the manifestation of children's imaginations, so there's something child-like about that.
A photo of an actor in makeup shared on Instagram can also only be so scary, so we've yet to get a great, indicative look at Pennywise. The new design could easily frighten a kid, too, but more importantly, it's all about execution. This design may not disturb some Stephen King fans now, but with the right lighting, music, story, and performances, it easily could in a theater.
It opens in theaters September 8, 2017.