'Homeland' Season 6 Will Scale Back Its Depiction Of Terrorism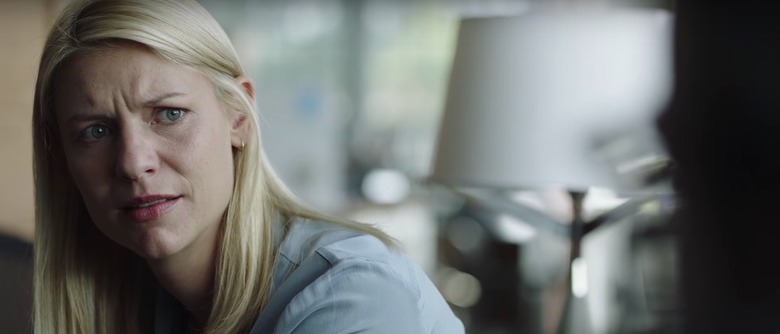 Showtime's Homeland has always tried to do that Law and Order "ripped from the headlines" thing, but many fans and critics felt is may have gotten a little too real last season, with a central storyline eerily reflecting real world terrorist attacks. With season six now changing locations, showrunner Alex Gansa says that the show will change gears, tweak its focus, and tell a different kind of story.
Gansa spoke with Entertainment Weekly about the new season, which just debuted its new trailer earlier this month, saying that the series has a responsibility to not depict vast terrorist plots that don't actually exist:
Last season, world events tragically caught up to the story we were telling. We knew we were going to New York and back to the United States. And didn't want to dramatize any threats to the United States — and to New York specifically — that don't actually exist. That was our first karmic principle this year. We're not going to posit that there are vast ISIS or Al Qaeda cells or networks in the United States like there are in Europe, because according to all our intelligence officers, there aren't any.
Instead, Homeland season 6 will focus on small scale, homegrown terrorism without the apocalyptic vibe that so often accompanies film and television depictions of this subject matter:
The threat we're facing right now are these do-it-yourself self-radicalized individuals — and that's a very different risk than another plot like 9/11. So we made a very conscious choice to not tell a 'New York threatened by suitcase nuclear bomb' story. We just weren't going to do that. The thriller exists in a much more psychological way this year, and we're curious to see how people respond to it.
Although it has ruffled its fair share of feathers over the years, Homeland has always prided itself on being 24's more level-headed counterpart, tackling similar subject matter with a bit more tact and sensitivity. Remember when 24 featured its lead character "heroically" out-manuevering a thinly veiled ACLU lawyer so he could torture a terrorism suspect? Yeeeah. Times have changed and it's smart of Homeland to take stock of the world as it makes creative choices.
Homeland season 6 will premiere on January 15, 2017. Here's the official synopsis:
After she thwarted a terrorist attack in Berlin, season six picks up several months later and finds Carrie Mathison (Danes) back on American soil, living in Brooklyn, New York. She has begun working at a foundation whose efforts are to provide aid to Muslims living in the U.S. Season six will tackle the after effects of the U.S. presidential election, with the entire season taking place between election day and the inauguration. It's a strange, transitional time in the halls of government filled with anxiety and different competing interests, where a very fragile and complex transfer of power takes place between the outgoing president and the incoming president-elect.