'The LEGO Batman Movie' TV Spots: Batman Has All The Good Ideas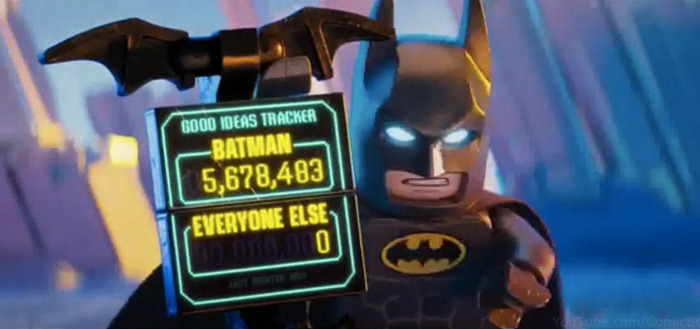 While DC Comics fans are patiently waiting to see what Ben Affleck can bring to the big screen with his first outing as director, co-writer and star of a new solo Batman movie, this spring will bring the Dark Knight to theaters in a much different way.
The LEGO Batman Movie brings back the building block version of the Caped Crusader (voiced by Will Arnett) that debuted in The LEGO Movie a little while back, but this time all of his comic book counterparts are on the scene too, including Michael Cera as Robin, Ralph Fiennes as Alfred and Rosario Dawson as Barbara Gordon, aka Batgirl. Now two new The LEGO Batman Movie TV spots show that Batman has some trouble working with partners. Watch them below!
This movie is pulling out all the stops when it comes to the roster of DC Comics characters facing Batman this time. In addition to Zach Galifianakis as The Joker, we'll also be hearing Jenny Slate as his sidekick Harley Quinn (who slams a car with her hammer above), Two-Face (finally played by Billy Dee Williams), Bane, Penguin, The Riddler, Scarecrow and tons more.
When The LEGO Batman Movie was announced, I wasn't sure that the character could sustain his own movie, seeming better utilized as a supporting character. But everything we've seen in the trailers so far indicates that this could be just as good if not better than The LEGO Movie. The spirit of the creative nature of Phil Lord & Chris Miller's big screen take on the building block toys is intact, and the comedy is top notch.
If you want to see more from The LEGO Batman Movie, check out the most recently released trailer right here. Otherwise, we only have a couple more months to wait before this promising spin-off hits theaters.
In the irreverent spirit of fun that made The LEGO® Movie a worldwide phenomenon, the self-described leading man of that ensemble—LEGO Batman—stars in his own big-screen adventure. But there are big changes brewing in Gotham, and if he wants to save the city from The Joker's hostile takeover, Batman may have to drop the lone vigilante thing, try to work with others and maybe, just maybe, learn to lighten up.
The LEGO Batman Movie drops into theaters February 10, 2017.