The 'Sing' Cast Teams With Paul McCartney For An A Cappella 'Wonderful Christmastime'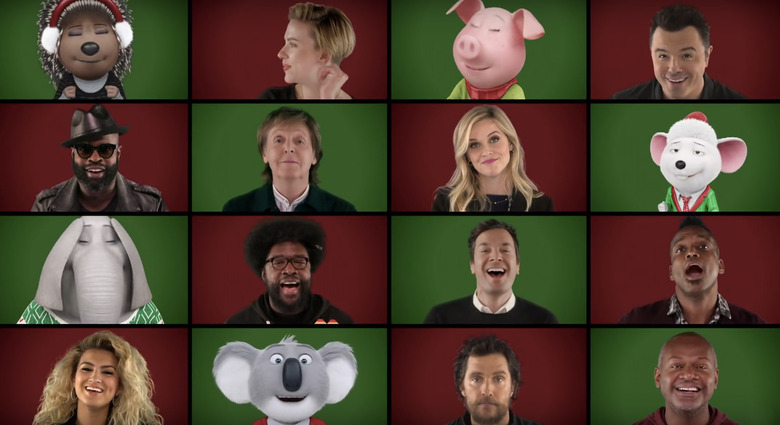 Sing is the latest animated comedy from Illumination Entertainment, and it's in theaters now. If somehow after the onslaught of musically charged TV spots that have been all over the place this holiday season you weren't aware of that, here's another reminder.
The voice cast of Sing (including Reese Witherspoon, Scarlett Johansson, Seth MacFarlane and Tori Kelly) appeared on The Tonight Show to perform an a cappella version of Paul McCartney's signature holiday tune "Wonderful Christmastime" with the help of Jimmy Fallon and The Roots. Oh, and the former member of The Beatles popped up to help out too.
Watch the Wonderful Christmastime a cappella video after the jump.
While I could be cynical about this all being a promotion for Sing, it's still a charming rendition of the Paul McCartney song, and it's cool seeing the animated alter egos of the voice stars included in the video too. It's just a shame that Taron Egerton and Nick Kroll couldn't be involved too.
Set in a world like ours but entirely inhabited by animals, Sing stars Buster Moon (Academy Award® winner Matthew McConaughey), a dapper Koala who presides over a once-grand theater that has fallen on hard times. Buster is an eternal optimist—okay, maybe a bit of a scoundrel—who loves his theater above all and will do anything to preserve it. Now facing the crumbling of his life's ambition, he has one final chance to restore his fading jewel to its former glory by producing the world's greatest singing competition.
Five lead contestants emerge: A mouse (Seth MacFarlane) who croons as smoothly as he cons, a timid teenage elephant (Tori Kelly) with an enormous case of stage fright, an overtaxed mother (Academy Award® winner Reese Witherspoon) run ragged tending a litter of 25 piglets, a young gangster gorilla (Taron Egerton) looking to break free of his family's felonies, and a punk-rock porcupine (Scarlett Johansson) struggling to shed her arrogant boyfriend and go solo. Each animal arrives under Buster's marquee believing that this is their shot to change the course of their life.
Garth Jennings (Son of Rambow, The Hitchhiker's Guide to the Galaxy) directs Sing, which is is theaters now.