'Silence' International Trailer: Martin Scorsese Tests Andrew Garfield's Faith In God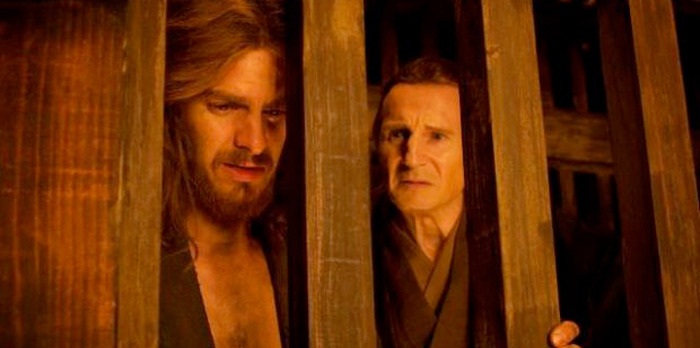 This weekend brings the limited release of Martin Scorsese's adaptation of Silence, a project that has been over 20 years in the making for the GoodFellas and Taxi Driver director. And now a powerful new international trailer has just debuted online.
Silence follows two 17th-century missionaries (played by Andrew Garfield and Adam Driver) as they face the ultimate test of faith when they travel to Japan, where Christianity was outlawed at the time, to find their missing mentor (Liam Neeson).
Watch the new Silence trailer after the jump.
Not all of the trailer is in English because there is Japanese dialogue that isn't given subtitles (since it's a Japanese trailer), but there is more than enough English for domestic audiences to understand what's going on this religious epic.
The film has a good amount of critical buzz going into its first theatrical weekend in New York and Los Angeles, though this doesn't appear to be the most accessible film for more general audiences who like to see Scorsese tackle movies like The Departed and The Wolf on Wall Street. Here's what one of the reviews from our round-up of early buzz indicated:
In the long-gestating Silence, [Martin Scorsese] has arguably made his most focused and searching exploration of the subject that has been both an explicit and implicit driving force behind many of his films. Not all dream projects turn out well, but this one comes within shouting distance.
The film is shot in a restrained, classical style, with very few of the director's virtuoso camera and editing moves. It's also resolutely, even single-mindedly focused on its central theme, creating an unvarying dramatic temperature and tone that is only relieved somewhat in the second half. Scorsese's reputation and some strong critical support will assure interest among discerning big city audiences for this Paramount release, but the work's grim nature and imposing length will likely keep the masses away.
I'm a lifelong Martin Scorsese fan, and I'll see any film he makes. This is a movie that is more in line with his films The Last Temptation of Christ and Kundun, and I can't wait to see all the passion he's poured into this movie from the more than two decades he's spent trying to get it made.
Martin Scorsese's "Silence" tells the story of two Christian missionaries (Andrew Garfield and Adam Driver) who face the ultimate test of faith when they travel to Japan in search of their missing mentor (Liam Neeson) – at a time when Christianity was outlawed and their presence forbidden.
Silence opens on December 23 in NY/LA then expands wider on January 6 and January 13.