IMDb's Top 10 Movies Of 2016 Is Drunk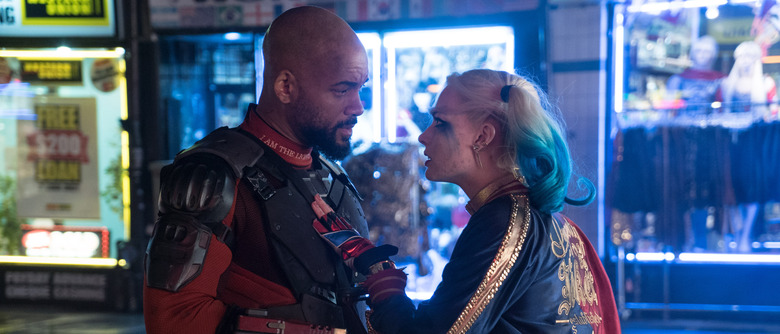 Before we actually deal with the news at hand, let me just lead by saying that I use IMDb every single day and find it to be one of the most valuable resources on the internet. I am on there dozens of times a day, to double check the cast and crew of a movie I'm writing about or to read random trivia out loud to fill awkward silences at bad parties. I love you, Internet Movie Database. You are wonderful.
But you're also a little drunk, as evidenced by your top 10 movies of 2016.
To be fair, the annual IMDB top 10 (via Variety) is not determined by actual quality, but rather by which movie's pages received the most clicks over the course of the year. So it actually makes a great deal of sense to see Suicide Squad in that number one position. It checks all of the boxes: it was a major release from a major studio, it was a comic book movie, it was just weird enough to send people scrambling to IMDb to learn more, and it was divisive enough to create arguments, which meant the need to visit its page to arm yourself with information (or to wade into the site's forums).
There are a few other things to note about the most popular IMDB pages of the year. First, they are all major studio movies, with superhero movies eating up the the top five spots. Second, the list doesn't consist entirely of massive box office smashes, as X-Men: Apocalypse, Ghostbusters, and The Legend of Tarzan were modest hits while Warcraft was an outright bomb (at least at the domestic box office). Third, The Legend of Tarzan was one of the ten most visited IMDb pages of the year? How did that happen?
Here's the full list
1. Suicide Squad
2. Captain America: Civil War
3. Batman v Superman: Dawn of Justice
4. Deadpool
5. X-Men: Apocalypse
6. The Jungle Book
7. The Magnificent Seven
8. Ghostbusters
9. Warcraft
10. The Legend of Tarzan
While IMDb user ratings are also notoriously inconsistent, you can look to the highest rated 2016 movies for a little blast of sanity. While there are still some inexplicable choices here, the superhero movies and major releases are balanced out by the likes of La La Land, Moonlight, Hacksaw Ridge, Manchester by the Sea, and Arrival, which make for a very different top five:
1. La La Land 8.9
2. Moonlight 8.7
3. Hacksaw Ridge 8.5
4. Manchester by the Sea 8.5
5. Arrival 8.3
6. Rogue One: A Star Wars Story 8.3
7. Zootopia 8.1
8. Moana 8.1
9. Deadpool 8.1
10. Kubo and the Two Strings 8.0
11. Captain America: Civil War 8.0
12. Captain Fantastic 8.0
13. Nocturnal Animals 7.9
14. The Edge of Seventeen 7.9
15. Doctor Strange 7.9
16. The Little Prince 7.8
17. Hell or High Water 7.8
18. Fantastic Beasts and Where to Find Them 7.8