Interview: 'Alien: Covenant' Star Katherine Waterston On Neomorphs And Action Stardom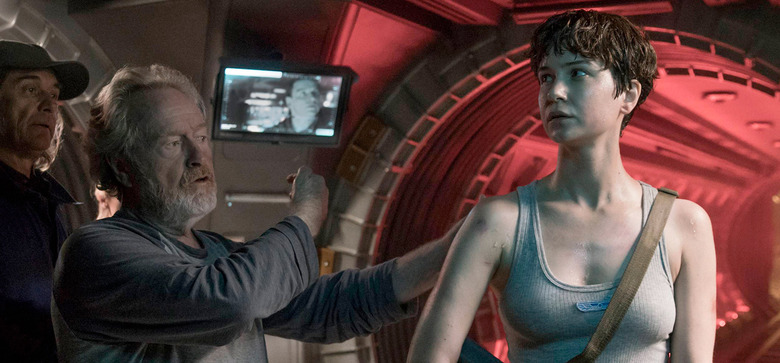 20th Century Fox is ending 2016 with the start of its marketing campaign for one of their most promising 2017 releases, Alien: Covenant. You've seen the first trailer and read my detailed footage recap. Now find out what star Katherine Waterston has to say about the whole thing.
During the recent Fox Showcase presentation in New York City, I had the opportunity to sit down with Waterston and ask her about the new film, as well as her tough, Ripley-esque character Daniels. Understandably, she was wary of giving away too much in the way of spoilers — but we still managed to have a nice chat about her character's style, her action hero chops, her inspirations for the performance, and more. Watch our Katherine Waterston interview below. 
Alien: Covenant introduces a new kind of xenomorph known as the neomorph. In the footage I saw, they looked small (about the size of a kitten) but more made up for their lack of size by being fast and vicious. In a word, they were terrifying. Naturally, I had to ask Waterston about them... and just as naturally, she tried really hard not to say much.
I'm so tight-lipped and boring, but I don't like to give away the movie magic stuff, because I think it's so much scarier when you don't know how it was done. But we did have an amazing team. We saw images of every creature we were going to be dealing with beforehand, little puppet-y versions of them and stuff, and then there were amazing stuntmen who would act out a lot of it. Actually, it's very similar to how I worked on Fantastic Beasts, so that was quite familiar to me. These are directors smart enough to know the more practical stuff the actors have to deal with, the better.
Although it's a given that any new Alien heroine will be inspired, on some level, by Ellen Ripley, Waterston admitted she hadn't really looked to other action stars for inspiration. Instead, she prepared by reading books that'd help her get into the mind of her character. "I read a lot of Carl Sagan and for some reason, some of Joan Didion's work was really useful for me when I was working on this," she told me.
Watch my full conversation with Waterston below. Alien: Covenant lands May 19, 2017.
Alien: Covenant - Katherine Waterston Interview
0:00: How Fantastic Beasts inspired Waterston's Alien haircut.
0:39: Waterston's transition into action stardom.
1:51: Waterston's favorite stunt in the movie.
2:27: Working with the neomorphs.
3:31: Waterston's inspirations for Alien: Covenant.