Bill Murray Is Opening A 'Caddyshack' Bar In His Old Stomping Grounds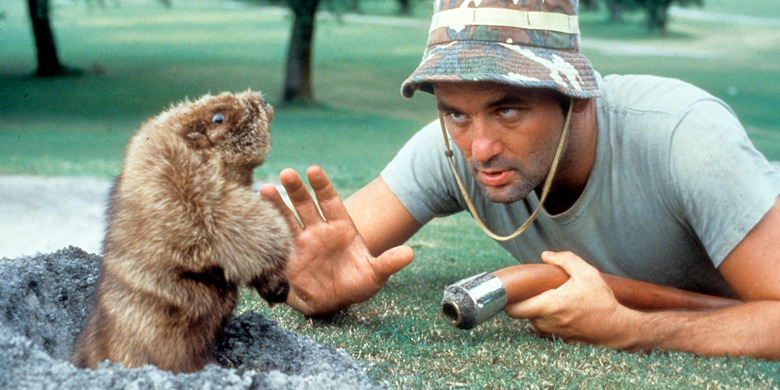 Cinderella story. Outta nowhere. A former greenskeeper, now, about to become the owner of a new restaurant in Chicago.
When Bill Murray had a bit part in the golf comedy Caddyshack, he was just beginning what would become one of the most illustrious comedy careers of all time. Now he's bringing a new restaurant to the Midwest inspired by the 1980 comedy that not only turned him into the most memorable groundskeeper on the big screen, but was also co-written by his brother Brian Doyle Murray along with Ghostbusters scribe Harold Ramis and National Lampoon writer Douglas Kenney.
Find out about the new Caddyshack restaurant after the jump.
The Daily Herald (via Vulture) has word that Bill Murray and his brothers are opening the Caddyshack restaurant in Rosemont, IL, just North of Murray's comedy roots in Chicago, Illinois. The Murray siblings include fellow actors Brian Doyle Murray, Brian Murray, Joel Murray and John Murray, as well as chef Andy Murray and financial executive Ed Murray.
The Caddyshack restaurant will be placed inside of the Crowne Plaza Hotel, which is in the heart of a busy section of Rosemont, Illinois that is very close to O'Hare International Airport. There's plenty of foot traffic over there with a bunch of outlet stores, a big movie theater, plenty of restaurants, and the Rosemont Theatre box office in the immediate area. As of now, the Murray brothers have a verbal agreement for an 11,000-square-foot space in the hotel and a written lease is currently in the works.
Originally, the Caddyshack restaurant was being eyed for a spot in the Rosemont MB Financial Park entertainment district, but Mayor Brad Stephens said there wasn't a slot there available. Still, the location won't be far from the high traffic area, and since it's so close to O'Hare, you can check it out if you have a long layover in Chicago.
In the meantime, if you can't wait for the new Caddyshack restaurant in the Midwest, there's already one that opened down at the World Golf Village in St. Augustine, Florida back in 2001. You can check out the restaurant's official website to see a batch of photos of all the Murray brothers in full golf gear, as well as the menu of tasty foods they offer. However, I will say that I'm disappointed that there's no signature dessert involving a Baby Ruth bar.