Netflix's 'Travelers' Trailer: The Future Likes To Get Its Hands Dirty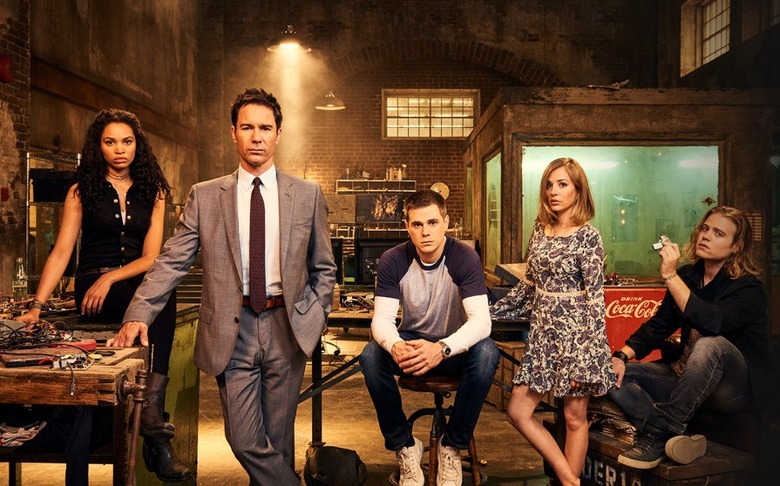 Last week Netflix unveiled their new sci-fi series, The OA. This week, they're giving their customers another sci-fi series, titled Travelers, a time travel show from the co-creator of Stargate SG-1 and creator of Stargate: Atlantis, Brad Wright. Wright's new project stars Eric McCormack (Will & Grace) as an FBI special agent who leads a team of "travelers" from the future.
Below, watch the Travelers trailer.
Back in October, the first 12 episodes of Travelers debuted on Showcase in Canada. The story follows Special Agent Grant MacLaren (McCormack) as he leads a team of the last surviving humans trying to prevent a horrific future. MacLaren's team-from-the-future doesn't commute by using conventional movie time travel methods; they send their consciousnesses back in time and use random people as their hosts. David (Patrick Gilmore), Trevor (Jared Paul Abrahamson), Carly (Nesta Marlee Cooper), Philip (Reilly Dolman), and even a High School quarterback, Trevor (Jared Paul Abrahamson), are the travelers, and they're mostly a group of average-sounding joes attempting to save the world.
Here's the Travelers trailer:
Travelers looks like a potentially cool, grounded sci-fi series, despite some awkward pacing in the trailer. There are a few promising ideas hinted at, like what happens when the travelers have all this valuable knowledge about the past they do nothing with. The production value doesn't appear to be quite as high as some of Netflix's other shows, but Travelers also doesn't look the type of story that needs as many resources as a show such as Stranger Things. Plus, based on what's been written about Netflix's new sci-fi series and co-production, it gets off to a promising enough start.
Here's the official synopsis:
Hundreds of years from now, the last surviving humans discover the means of sending consciousness back through time, directly into people in the 21st century. These "travelers" assume the lives of seemingly random people, while secretly working as teams to perform missions in order to save humanity from a terrible future. These travelers are: FBI Special Agent Grant MacLaren (Eric McCormack), the team's leader; Marcy (Mackenzie Porter), a young, intellectually disabled woman in the care of her social worker, David (Patrick Gilmore); Trevor (Jared Paul Abrahamson), a high school quarterback; Carly (Nesta Marlee Cooper), a single mom in an abusive relationship; and Philip (Reilly Dolman), a heroin-addicted college student. Armed only with their knowledge of history and an archive of social media profiles, the travelers discover that 21st century lives and relationships are as much a challenge as their high-stakes missions.
Travelers is available to stream on Netflix on December 23rd.