'Riverdale' Teaser Trailer: Archie & Friends Get A Sexy, Murder-Y Makeover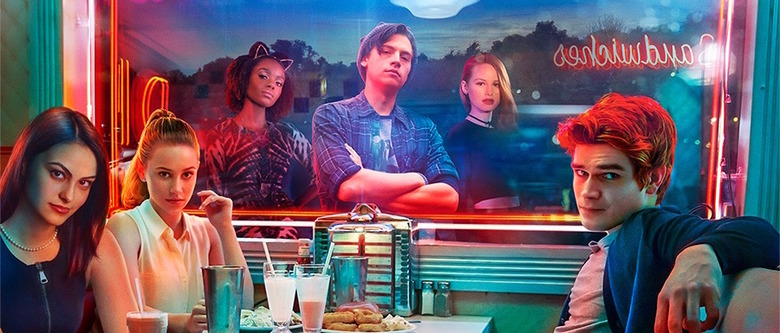 Take Archie, mash it up with Gossip Girl, and add a sprinkling of Twin Peaks, and you'll probably end up with something like Riverdale, The CW's new sexed-up murder mystery drama about suspiciously hot teenagers in a seemingly sleepy, actually quite creepy little town. As the show's midseason premiere date approaches, The CW has unveiled a new Riverdale teaser trailer that sets up some of the major drama to come. See the new Riverdale teaser trailer below.
Riverdale Teaser Trailer
I caught the Riverdale pilot at Comic-Con, and while it suffers from some of the usual first-episode issues — endless expository dialogue, way too much plot, thinly drawn characters — I thought it showed a lot of promise. It's cheesy as hell, but in exactly the way you want a CW teen soap to be cheesy. Archie himself (K.J. Apa) is kind of a dud in the debut episode, but that's often the case for shows like this, and he's surrounded by a fun supporting cast. Lili Reinhart and Camila Mendes, who play Betty and Veronica, have particularly good chemistry. If all of this sounds like your jam, Riverdale premieres January 26, 2017 on The CW.
As a new school year begins, the town of Riverdale is reeling from the recent, tragic death of high school golden boy Jason Blossom — and nothing feels the same. Archie Andrews (KJ Apa) is still the all-American teen, but the summer's events made him realize that he wants to pursue a career in music and not follow in his dad's footsteps despite the sudden end of his forbidden relationship with Riverdale's young music teacher, Ms. Grundy (Sarah Habel). Now Archie has no one to mentor him, certainly not singer Josie McCoy (Ashleigh Murray), who is only focused on her band, the soon-to-be-world-famous Pussycats. It's all weighing heavily on Archie's mind — as is his fractured friendship with budding writer and fellow classmate Jughead Jones (Cole Sprouse).
Meanwhile, girl-next-door Betty Cooper (Lili Reinhart) is anxious to see her crush Archie after being away all summer, but she's not quite ready to reveal her true feelings to him. And Betty's nerves, which are hardly soothed by her overbearing mother Alice (Mädchen Amick), aren't the only thing holding her back. When a new student, Veronica Lodge (Camila Mendes), arrives in town from New York with her mother Hermione (Marisol Nichols), there's an undeniable spark between Veronica and Archie, even though Veronica doesn't want to risk her new friendship with Betty by making a play for Archie. And then there's Cheryl Blossom (Madelaine Petsch)... Riverdale's Queen Bee is happy to stir up trouble amongst Archie, Betty and Veronica, but Cheryl is keeping secrets of her own. What, exactly, is she hiding about the mysterious death of her twin brother, Jason? Riverdale may look like a quiet, sleepy town, but there are dangers in the shadows.