'Thor: Ragnarok' Will Head To Planet Hulk's Sakaar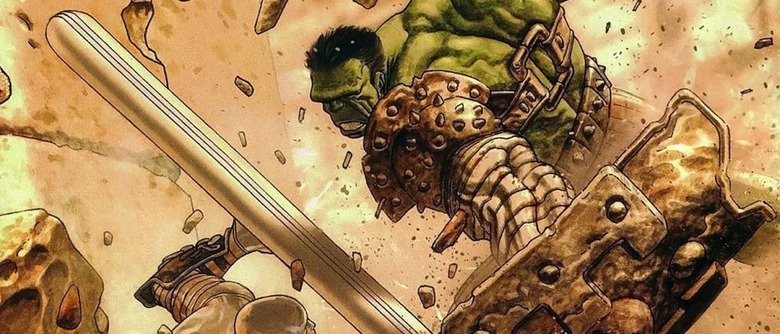 Thor: Ragnarok might not be a Planet Hulk movie per se, but it's becoming increasingly obvious that it will borrow heavily from that source material. After months of rumors, Marvel Studios finally unveiled Hulk's gladiator armor at Comic-Con this summer. And now the film's director, Taika Waititi, has gone and confirmed once and for all that Thor: Ragnarok will indeed be heading to the planet Sakaar – of, yes, Planet Hulk fame.
At this point, it's not really news that Thor: Ragnarok will incorporate elements of Planet Hulk. The question is how the storyline will tie into the other events of Thor: Ragnarok, and how much of it will make it into the movie. We won't know for sure until the film opens, obviously, but at the very least we now know the film will be headed to Sakaar. Here's Waititi talking to Total Film (via MCUExchange):
Sakaar was just an insane, far-off, futuristic place which was the biggest shift for the film and these characters. I was really excited when Kevin [Feige] and the rest of Marvel jumped on board with the idea to use [Jack] Kirby as a big influence in the design of the film. What's really hard is staying authentic.
In the comics, Hulk gets sent off into outer space after he's deemed too dangerous for Earth. He crash-lands on Sakaar, where he's forced to become a gladiator for the planet's Red King. One thing leads to another, Hulk becomes the new king of Sakaar, gets married, and then loses his wife when the shuttle he took to Sakaar explodes. Hulk returns to Earth to get his revenge. But that's another story (specifically, World War Hulk). I wouldn't count on Thor: Ragnarok being entirely faithful to the Planet Hulk storyline, though.
Elsewhere in the interview, Waititi describes Thor: Ragnarok as the most "out there" of the Marvel films. If they're going to Sakaar, no wonder. With a few exceptions, including the Guardians of the Galaxy movies and the Asgard scenes in Thor, the Marvel Cinematic Universe has mostly stayed grounded on Earth. It's nice to hear that the franchise is taking greater advantage of the fact that they've got a whole universe at their fingertips. Feige has said before that "80 to 90 percent" of the film "takes place in the cosmos," while Waititi has described the overall tone as being akin to "a '70s/'80s sci-fi fantasy." I don't know about you, but I can't wait to find out what exactly that means.
Thor: Ragnarok is in theaters November 3, 2017.