'Moana' Clip: See Jemaine Clement's Tamatoa Gets His Big Musical Moment In ''Shiny''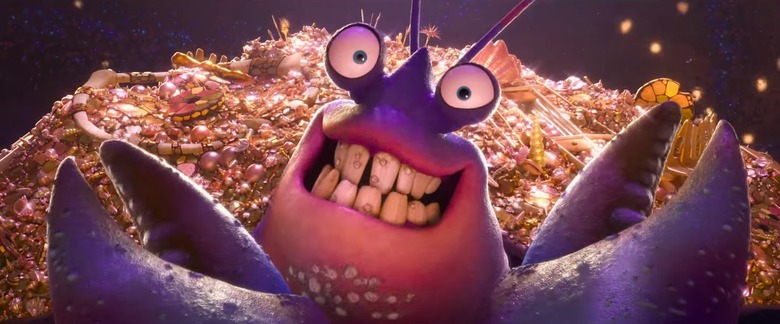 Much as I adore the Moana musical numbers, I can't say I was particularly surprised by most of them. "We Know the Way" was heavily promoted in all the marketing materials, "How Far I'll Go" is clearly being positioned as the next "Let It Go," and of course the film's second lead, Maui (Dwayne Johnson) would have to get a musical moment or two. So going into the theaters, I thought I had a pretty good idea of what to expect from the soundtrack. But I definitely did not see "Shiny" coming.
Sung by Tamatoa — a big, mean crab voiced by Flight of the Conchords' Jemaine Clement — "Shiny" is the antithesis to everything Moana stands for. Tamatoa twirls and sparkles as he preaches the importance of "be[ing] who you are on the outside," all the while trying to capture Moana and Maui. Oh, and it's also an obvious David Bowie homage, with Clement serving up his best impression. It's weird and it's unexpected and it's totally delightful, and now that the Moana Shiny clip is out you definitely want to revisit it below.
Clement's Bowie riff makes perfect sense if you've seen his HBO series Flight of the Conchords, which once featured an entire episode inspired by the musical icon. "Shiny" is such a perfect song for Clement that it's honestly surprising he's not the one who wrote it. If you're curious to know what Lin-Manuel Miranda, who did write it, sounds like when he's channeling Bowie, definitely seek out the deluxe edition of the Moana soundtrack — it's loaded with demos, including one of Miranda doing "Shiny."
"Shiny" is the latest of several Moana musical numbers released on the web. You can check out the others below:
Moana is in theaters now. I don't know about you guys, but I'm definitely rooting for this to be the film that gets Miranda his EGOT. Sorry, La La Land.