'The Emoji Movie' Trailer: The Meh Emoji About Sums It Up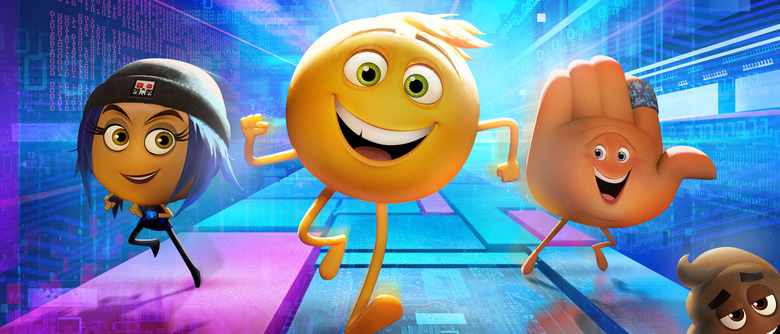 Sometime last year, Sony announced plans to make The Emoji Movie, which is exactly what it sounds like — an entire feature film about the bubbly little faces that live in your phone. It was described in rough terms as "Wreck-It Ralph meets Inside Out," which, despite the fact that we really like both of those movies, didn't do much to make us feel better about The Emoji Movie. But hey, we've been wrong before. Sometimes terrible-on-paper ideas yield incredible movies. Maybe, just maybe, The Emoji Movie is one of those times.
... Or, you know, maybe not. It seems like a bad sign that the first Emoji Movie trailer does not seem all that excited about The Emoji Movie. I guess the marketing team thought they were being ironic, but really all I see is a reflection of my own lack of interest in this film. Watch the first The Emoji Movie trailer below. 
The Emoji Movie Trailer
Maybe the most interesting thing about the Emoji Movie trailer is that it's in the vertical format. I don't think the whole movie is shot that way, and it'd probably be really annoying if it were. But I almost wish it was. If nothing else, it would count as a bold choice. Maybe even one that could get the "meh" emoji to transform himself into a "WTF" one.
UPDATE: There is an Emoji Movie trailer in the horizontal format now. It is not better.
The Emoji Movie opens August 4, 2017.
EMOJIMOVIE: EXPRESS YOURSELF unlocks the never-before-seen secret world inside your smartphone. Hidden within the messaging app is Textopolis, a bustling city where all your favorite emojis live, hoping to be selected by the phone's user. In this world, each emoji has only one facial expression – except for Gene (T.J. Miller), an exuberant emoji who was born without a filter and is bursting with multiple expressions. Determined to become "normal" like the other emojis, Gene enlists the help of his handy best friend Hi-5 (James Corden) and the notorious code breaker emoji Jailbreak (Ilana Glazer). Together, they embark on an epic "app-venture" through the apps on the phone, each its own wild and fun world, to find the Code that will fix Gene. But when a greater danger threatens the phone, the fate of all emojis depends on these three unlikely friends who must save their world before it's deleted forever.