Dick Van Dyke Will Be In 'Mary Poppins Returns'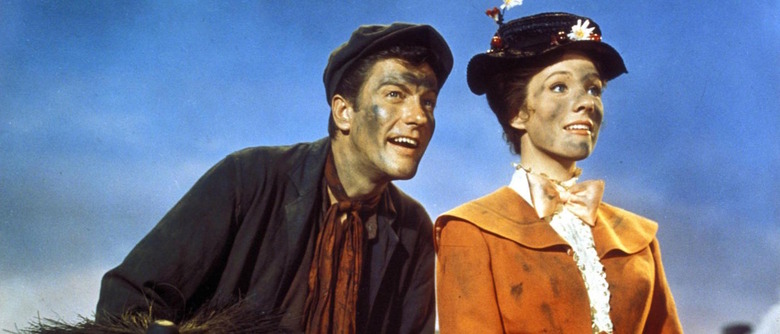 Mary Poppins Returns will largely feature a brand-new cast, with Emily Blunt stepping into the title role, Ben Whishaw and Emily Mortimer playing the Banks children, Lin-Manuel Miranda playing Mary's new buddy Jack, and more. But they're also making room for one of the classic stars. Dick Van Dyke has confirmed he will return for the new film, which takes place about 20 years after the events of the original. Van Dyke played Bert, the chimney sweep with the atrocious Cockney accent, in the 1964 movie.
Van Dyke's casting was revealed in a larger feature at THR about actors over 90. (Van Dyke is 91.) In an interview, he reminisced about working on the original. "There was a spirit about that thing from the very beginning," he said. "Walt [Disney] had me in, and I heard the score and saw the scenes storyboarded on a wall, and I just knew." And he expressed his excitement for the upcoming sequel: "This one supposedly takes place 20 years later and the kids are all grown up. It's a great cast — Meryl Streep, Angela Lansbury and that guy [Lin-Manuel Miranda] from Hamilton."
Set in Depression-era London, Mary Poppins Returns revisits Jane and Michael Banks, who are all grown up. Michael even has three children of his own. But when a tragedy shakes the family, Poppins returns to help the Bankses rediscover joy and adventure in their lives. While the first Mary Poppins was based on the first of P.L. Travers' eight books about the magical nanny, Mary Poppins Returns will take inspiration from the other installments.
Streep plays Topsy, Mary Poppins' cousin, and Colin Firth was recently cast as William Weatherall Wilkins, president of the Fidelity Fiduciary Bank. (I can only assume those delightfully alliterative names will make their way into a musical number. It'd be a waste if they didn't.) Interestingly, Van Dyke's comments are the first we've heard of Lansbury being part of the cast. It's unclear if he's mistaken, or if he just dropped some big news without realizing it.
Mary Poppins Returns is in theaters December 25, 2018.