'John Wick Chapter 2' Trailer: The Man, The Myth, The Legend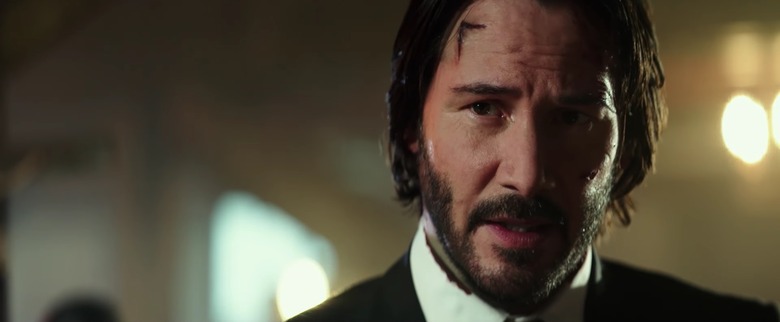 Yeah, he's thinking he's back. Lionsgate has just unveiled the new trailer for John Wick: Chapter 2, which drags Keanu Reeves' legendary hitman back into the fray again, this time to help a former associate who wants to take control of an assassins' guild. For a guy who claims he really just wants out of the game, he sure is bad at staying retired. Click through to see the new John Wick: Chapter 2 trailer.
John Wick: Chapter 2 Trailer
Chad Stahelski is directing solo this time around, since his John Wick co-director David Leitch left to direct The Coldest City and Deadpool 2. Thankfully, it looks like he's done a fine job handling things on his own. John Wick: Chapter 2 looks impeccably choreographed and precisely shot, just like the last film, without feeling too much like a retread. It expands the underworld that we first explored in John Wick, introducing intriguing new characters like the ones played by Laurence Fishburne, Common, and Ruby Rose.According to Stahelski, Chapter 2 is to John Wick what Aliens was to Alien, in that it takes the premise in a different direction. While we'll have to wait and see how his efforts have panned out, one thing we definitely know is different is that John Wick: Chapter 2 will not kill off another puppy. Animal lovers can watch this one without worry. Probably.John Wick: Chapter 2 opens February 10, 2017. Also starring are Riccardo Scamario, Ian McShane, Peter Stormare, and Thomas Sadoski.
Keanu Reeves returns in the sequel to the 2014 hit as legendary hitman John Wick who is forced to back out of retirement by a former associate plotting to seize control of a shadowy international assassins' guild. Bound by a blood oath to help him, John travels to Rome where he squares off against some of the world's deadliest killers.