'Homeland' Season 6 Trailer: Well, This Looks Terrifyingly Relevant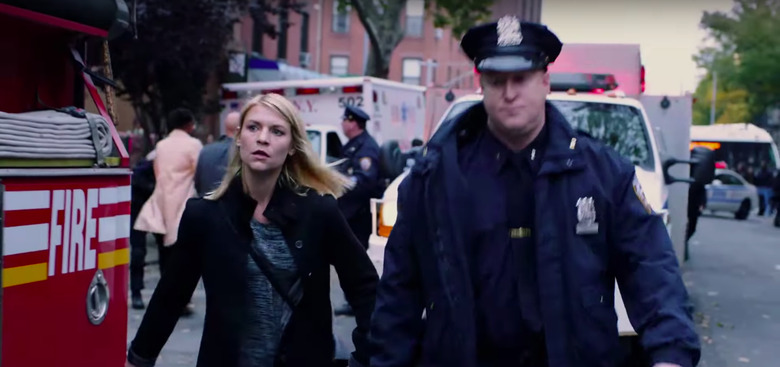 There are bound to be a lot of Americans feeling nervous in the run-up to the next presidential inauguration on January 20. Fortunately, Showtime is here to help get your mind off things... with a series about a bunch of really terrible things that happen in the run-up to a presidential inauguration. Okay, on second thought, maybe Homeland is not your best bet for escapist fantasy.
Season 6 brings Claire Danes' Carrie Mathison back to home soil, where she's working for a foundation that provides aids to Muslims in the U.S. She gets caught up in the danger surrounding the transfer of power for the next president (Elizabeth Marvel), who's calling for the "wholesale reform of the CIA." Which, of course, means that Saul (Mandy Patinkin) and Dar Adal (F. Murray Abraham) are not exactly fans of hers. Watch the Homeland season 6 trailer below. 
Homeland Season 6 Trailer
Homeland has always prided itself on being grittier and more realistic than your typical spy thriller, and season 6 looks more relevant than ever. Maybe even too relevant. As TV drama goes, this all looks very exciting and interesting (if a bit repetitive — Carrie seems to repeat some of the same emotional beats we've seen her hit a thousand times before), but as an inadvertent reflection of our current times... it's too real, man.Homeland returns January 15, 2017 at 9 PM on Showtime.
After she thwarted a terrorist attack in Berlin, season six picks up several months later and finds Carrie Mathison (Danes) back on American soil, living in Brooklyn, New York. She has begun working at a foundation whose efforts are to provide aid to Muslims living in the U.S. Season six will tackle the after effects of the U.S. presidential election, with the entire season taking place between election day and the inauguration. It's a strange, transitional time in the halls of government filled with anxiety and different competing interests, where a very fragile and complex transfer of power takes place between the outgoing president and the incoming president-elect.