'Going In Style' Trailer: Michael Caine, Morgan Freeman & Alan Arkin Rob A Bank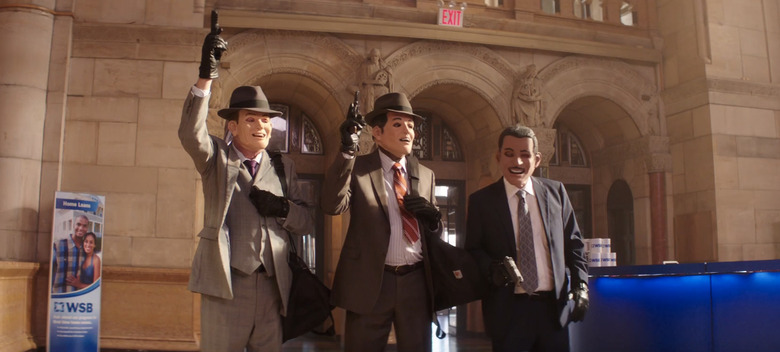 As a filmmaker, Zach Braff has delivered two indie films with much different receptions. Garden State was a film festival darling that captured the hearts of many when it came out in 2004, but it has since lost some of its shine (though I will defend it and love it forever). Then Braff's return behind the camera, his partially crowdfunded Wish I Was Here , wasn't anything to write home about. Now Braff has decided to get behind the camera for something much different: a mainstream studio comedy remake.
Going In Style, a contemporary remake of the 1979 heist movie of the same name, follows a trio of geriatric longtime friends (veteran actors Michael Caine, Morgan Freeman, and Alan Arkin) who decide to rob a bank. It doesn't feel like a Zach Braff movie at all, and it looks like the kind of movie your parents and grandparents will love.
Watch the Going In Style trailer after the jump.
While this looks lighthearted and funny, let's not forget what the title of the movie is. The original movie takes a couple dark turns, and I'm curious to see how this movie tells the story. Plus, the original had three friends robbing banks just to give their life some spice in their old age. The remake has been beefed up a bit to give the characters a little more motivation by making the banks and the executives in charge of them responsible for the guys losing their pensions.
Is anyone else getting flashbacks to that comedy The Crew from 2000? That movie featured Burt Reynolds, Seymour Cassel, Richard Dreyfuss and Dan Hedaya taking up their old mobster ways to keep from getting evicted from a Miami Beach Hotel they've come to call home. This looks somewhat better, but still a little hokey. Maybe Braff can make it more charming than it otherwise might be.
On a sidenote, it's nice to see that Ann Margaret can still get an old man's heart beating faster, just as she did for Jack Lemmon and Walter Matthau in Grumpy Old Men all the way back in 1993.
Lifelong buddies Willie (Morgan Freeman), Joe (Michael Caine) and Al (Alan Arkin), decide to buck retirement and step off the straight-and-narrow for the first time in their lives when their pension fund becomes a corporate casualty. Desperate to pay the bills and come through for their loved ones, the three risk it all by embarking on a daring bid to knock off the very bank that absconded with their money.
Going In Style hits theaters on April 7, 2017.