'Arsenal' Trailer: Nicolas Cage Makes A Movie That Feels Like It Belongs In 'Entourage'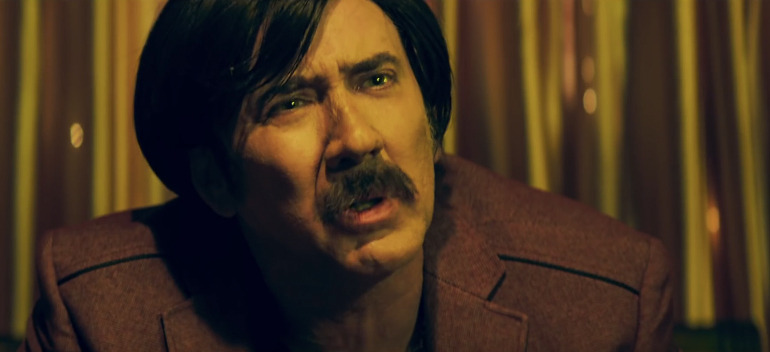 Adrien Grenier is best known for starring in the HBO series Entourage as movie star Vincent Chase. Throughout the series, we're treated to teases of the movies Grenier's character has made during his career. Now a trailer for a new action thriller looks like it came straight out of the world of Entourage, complete with a role for Adrian Grenier.Arsenal follows two brothers (Adrian Grenier and Johnathon Schaech) as they get caught up in the wild antics of a ruthless crime boss — one that just so happens to be played by Nicolas Cage, reprising his character from the 1993 film Deadfall, directed by Cage's brother Christopher Coppola. Yes, somehow, this is a real movie.
Watch the Arsenal trailer after the jump.
Nicolas Cage is delivering one of those special, batshit crazy performances that we love to see him take on, especially when they're in seemingly bad movies like this. When this trailer debuted, no one had any idea that it was a kind of sequel to Deadfall (watch the trailer here if you've never heard of this movie), but director Steven C. Miller confirmed as much when ScreenCrush's Matt Singer inquired about the apparent connection:
yes

— Steven C Miller (@stevencmiller) December 15, 2016
In addition, Christopher Coppola will appear in the film in some capacity, alongside Lydia Hull, Christopher Coppola, Megan Leonard, Christopher Rob Bowen, Tyler Jon Olson, and Shea Buckner. But even more upsetting is that John Cusack appears in this movie, adding to the long list of disasters he's been part of in recent years. He's even made one of these terrible movies with Nicolas Cage before, called Frozen Ground, which was released in 2013. These two have fallen quite a bit since starring in Con Air together.
Honestly, the appeal of an insane Nicolas Cage performance just might be enough to get people vaguely interested in this movie. But with a January 6, 2017 release date, it's not likely to be anything audiences are excited about seeing.
A powerful action thriller, ARSENAL tells the intertwining stories of the Lindel brothers, Mikey (Johnathon Schaech) and JP (Adrian Grenier), who had only each other to rely on growing up. As adults, JP found success as the owner of a construction company, while Mikey became a small-time mobster, mired in a life of petty crime.
When Mikey is kidnapped and held for a ransom by ruthless crime boss Eddie King (Nicolas Cage), JP turns to the brothers' old pal Sal (John Cusack), a plain clothes detective for help. In order to rescue his brother, JP must risk everything and unleash his vengeance against King's relentless army of gangsters.