Woody Harrelson Will Shoot The World's First Live Movie In One Single Take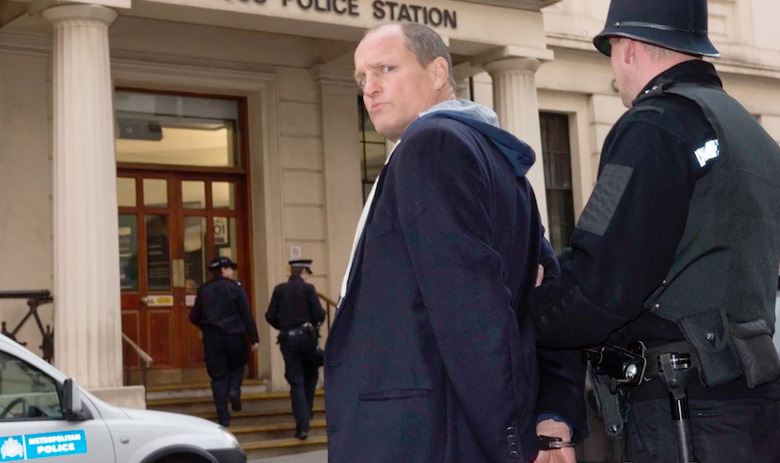 When it comes to movies, there are a variety of ways to experience them. You can head to theaters to catch one on the big screen, you can wait until one is available on VOD, Blu-ray or DVD to watch one from the comfort of your home, and you can even take movies with you on your mobile devices like tablets and smart phones. However, Woody Harrelson is about to deliver a movie in a way no one has ever experienced one before: live.
The man who will be seen facing off against an army of simians in War for the Planet of the Apes next summer will spend the early part of 2017 directing Lost in London, the world's first live movie that will be shot as it's being broadcast into theaters around the country. You might think that sounds like nothing more than a stage production broadcast live into theaters, which is done all the time, but this is much different.
Find out about Woody Harrelson's live movie after the jump.
The former Cheers star made the announcement about his project through Fathom Events:
The teaser doesn't indicate what the movie is about, though it does reveal that Owen Wilson and Willie Nelson are among the cast members. Thankfully, Entertainment Weekly caught up with writer and director Woody Harrelson, who said it has something to do with one bad night he had after breaking an ashtray in the back of a taxi in London led to him ending up in jail for one night. That's the impetus for what Harrelson calls a "soul-searching comedy."
So what makes this different from broadcasting a stage production in theaters? Well, this movie won't be stagebound. Harrelson explains it will have 14 different locations and 30 people in the cast, all of which will be shot live in London in one single, continuous take for about 100 minutes.
I would have thought that the movie would employ several different cameras at various locations, but this single take, single camera concept makes it feel even more challenging and exciting. He'll be doing this with the help of cinematographer Nigel Willoughby, who Harrelson became enamored with after he saw the movie The Magdalene Sisters, and has since worked on Downton Abbey and Penny Dreadful. It was Willoughby who has continuously had to convince Harrelson to shoot the movie in a single take with one camera.
You'll be able to see if Woody Harrelson's ambitious project works out when it's broadcast into theaters on January 19th at 9pm ET/6pm PT, followed by a Q&A with Harrelson after it's all over. You can find all the theaters hosting the live stream right here. However, if it doesn't work out, Harrelson playfully says he'll jump into the Thames river. Hopefully he won't have to worry about that.