Will Ferrell And Kristen Wiig Are Developing An Original Musical All About Industrial Musicals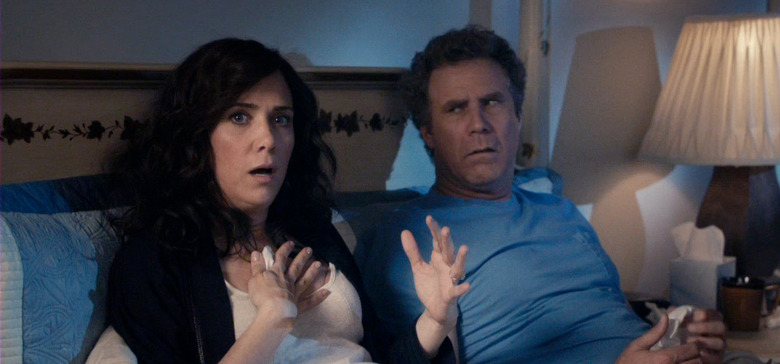 Former SNL stars and frequent collaborators Will Ferrell and Kristen Wiig may reunite for an original musical. They're attached to develop an adaptation of Steve Young and Mike Murphy's book, Everything Is Coming Up Profits: The Golden Age Of Industrial Musicals, which is about the musicals corporations used to put together to inspire their workers. The producer behind La La Land and Grease Live!, Marc Platt, is producing the project.
Below, learn more about the potential Will Ferrell and Kristen Wiig musical.
From the 1950s to the 1980s, some of America's biggest corporations put on Broadway-style musicals for their employees. The purpose? For starters, to motivate them and make them more educated in the product they were selling. There'd be tunes about tires, typewriters, soda — you name it. American Standard, Coca-Cola, J.C. Penney, and Ford Motor Co. are a few of the many companies that made some of these musicals. These shows would sometimes involve genuinely great talent, too, like John Kander and Fred Ebb. They wrote "Go Fly a Kite" for GE a mere two weeks before Cabaret – for which Kander wrote the music and Ebbs the lyrics — premiered on Boadway.
You can listen to over a dozen of these songs at the official site for Young and Murphy's book. Some of the songs are genuinely charming, while others are a bit hokey and puzzling. If this film does move forward with Ferrell and Wiig, it's easy to imagine how much fun those two could be in a musical about this world, especially if, like the book, it's not a parody.
According to Deadline, Amblin Entertainment bought the pitch. Marc Shaiman and Scott Wittman, who brought John Waters' Hairspray to Broadway and are working on Disney's Mary Poppins Returns, are writing original songs for the project. Handling the script is playwright Steve Levenson, a writer-producer on the recently canceled Masters of Sex. Deadline adds all deals are currently under negotiation.
Here's the novel's synopsis:
From the 1950s to the 1980s, American corporations commissioned a vast array of lavish, Broadway-style musical shows that were only for the eyes and ears of employees. These improbable productions were meant to educate and motivate the sales force to sell cars, appliances, tractors, soda, and a thousand other products. Though most of these shows were lost to the universe, some were recorded and distributed to convention attendees via souvenir vinyl records. The little-known world of industrial shows is reconstructed through the record collection of author Steve Young, who has spent twenty years finding the extremely rare souvenir albums as well as tracking down and interviewing the writers and performers. Through the records themselves as well as behind-the-scenes stories, a new perspective on American history, culture, and business emerges. Eye-popping visuals, samples of confounding and hilarious lyrics, and witty commentary by Young and co-author Sport Murphy (who also contributes original artwork) bring the topic to vivid, astonishing life. A companion website will offer streaming audio of the songs which seem too crazy to be real—but not only are they real, they're often a revelation.