'Trollhunters' Featurette: Enter Guillermo Del Toro's Colorful, Fantastical Animated Series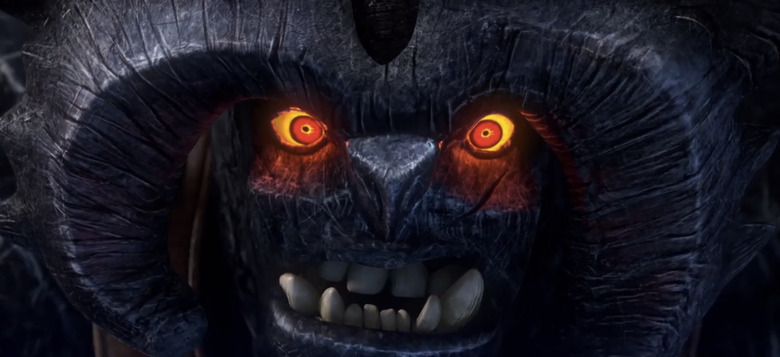 It feels like it's been too long since we've gotten a new project from Guillermo del Toro. That might be because Crimson Peak was a bit of a disappointment last year, and we'll be waiting until sometime next year to see his next movie, The Shape of Water, which started filming just a few months ago. But in the meantime, we'll have a little something to hold us over.
Guillermo del Toro has been working with Netflix on an animated series called Trollhunters, adapted from a book he wrote himself with Daniel Kraus. While it's clearly geared towards kids, it has some stylish animation and fantasy action that should keep his adult fans entertained until his new movie arrives. You can see what we're talking about in a new Trollhunters featurette with new footage and some insight from del Toro himself.
Here's the Trollhunters featurette straight from Netflix:
One can't help but feel a little sad that we don't get to hear from the late Anton Yelchin, who voices the lead character Jim in this first season of the series. But the rest of the cast, including del Toro's lucky charm Ron Perlman, The Simpsons guest star Kelsey Grammer and former The Walking Dead star Steven Yeun, does a fine job hyping up the series in his stead,
But I could listen to del Toro hype up his own projects forever. The way he describes everything he works on is enough to get you interested. Most animated series like this feel like they lack impressive visuals, but this one looks much more remarkable than other shows that operate on the same level.
If you want to see more from Trollhunters, check out the full trailer for the series right here. Otherwise, next week you'll be able to see all of the episodes exclusively on Netflix.
When ordinary teenager Jim Lake Jr. stumbles upon a mystical amulet on his way to school one morning, he inadvertently discovers an extraordinary secret civilization of mighty trolls beneath his small town of Arcadia. Strong-willed and seeking adventure but wholly unprepared for the responsibilities thrust upon him, Jim is forced to take on the exalted mantle of Trollhunter, sworn to protect the good trolls from powerful enemies bent on revenge. The first human ever to hold the honor, Jim abruptly goes from fighting his way through the daily mayhem of high school to joining a war that has raged for centuries, a conflict that now threatens all of mankind and troll-kind alike.
Accompanied by his closest human friends and a few key troll allies, the courageous fifteen-year-old must plunge headlong into a fantastical world of astonishing creatures, glorious cities, and fierce enemies desperate to destroy him. Suddenly destined to play a crucial role in an ancient battle of good and evil with stakes that couldn't be higher, Jim is determined to save the world — right after gym class. DreamWorks' Trollhunters is a heroic tale that uncoils with ambitious, complex storytelling and stunning visuals that raise the bar for animated series, creating an event series that will thrill the entire family.
Trollhunters hits Netflix just before Christmas on December 23.