'Star Trek: Discovery' Casts 'Walking Dead' Star Sonequa Martin-Green As Lead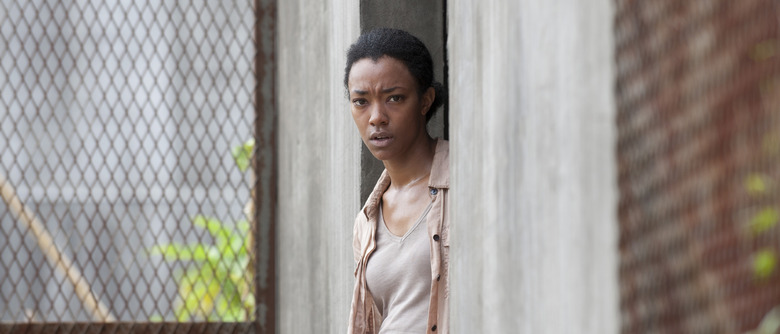 After scouring the universe in search of a lead, Star Trek: Discovery has finally found one. Sonequa Martin-Green, who currently stars on The Walking Dead, will play the lieutenant commander aboard the U.S.S. Discovery. It's the latest in a wave of exciting casting news for the sci-fi series, which is scheduled to launch on CBS All Access next year.
Entertainment Weekly broke the Star Trek Discovery Sonequa Martin-Green news. I have to admit I have never closely followed Star Trek or The Walking Dead, but our resident Star Trek expert and Walking Dead fan Jacob Hall assures me Martin-Green is an excellent choice. She will spearhead a cast that also includes Anthony Rapp as "astromycologist" Lt. Staments; Doug Jones as alien science officer Lt. Saru; and Michelle Yeoh as Captain Georgiou, of another ship called the Shenzhou. Earlier this week, Chris Obi, Shazad Latif, and Mary Chieffo were cast as a trio of Klingon warriors.
If you're wondering what this means for Martin-Green's Walking Dead character, fret not. The actress will reportedly continue her regular role as Sasha. Which isn't to say Sasha is necessarily safe, of course, since no one really is. Just that you can rest assured Martin-Green's casting in Star Trek: Discovery isn't some kind of tragic spoiler. (Or at least, that that's what the inside sources would like you to believe.) Besides The Walking Dead, Martin-Green's credits include recurring stints on Once Upon a Time, The Good Wife, and Army Wives.
From the outset, Bryan Fuller has been very clear that he wanted Star Trek: Discovery to have a diverse cast. He has stressed that the series would feature a female lead (Martin-Green), an openly gay character (Rapp), and more aliens than your usual Star Trek adventure. Although he stepped down as showrunner several weeks ago, it looks like the series is committed to carrying out that stated mission. Then again, Star Trek has always been about acceptance and inclusivity. It just makes sense that this latest iteration of the franchise would reflect those themes.
Otherwise, plot details are scarce. We know Star Trek: Discovery will be set in the Prime timeline (as opposed to the Kelvin timeline where the recent movies take place), roughly a decade before the events of the original Star Trek TV series. Gretchen Berg and Aaron Harberts are serving as showrunners, replacing Fuller, and the whole thing is set to launch in May 2017.