Lin-Manuel Miranda's 'Vivo' Coming From Sony Animation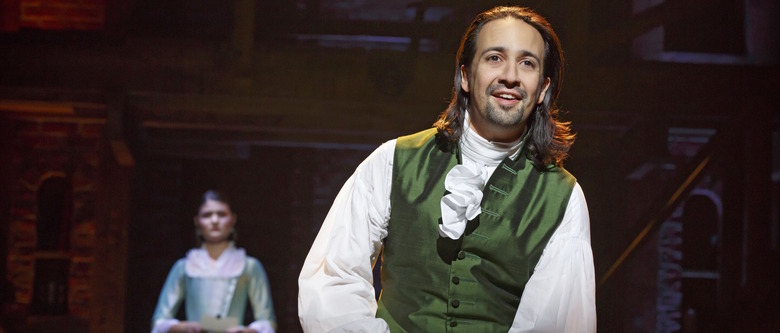 It's becoming increasingly apparent that Lin-Manuel Miranda doesn't just write like he's running out of time — he works at a pace that'd make Alexander Hamilton himself implore Miranda to take a break. With Disney's Moana still in theaters, Sony has set a date for Vivo, its own animated film featuring songs by Miranda. Kirk DeMicco (The Croods) is directing, and Miranda's In the Heights collaborator Quiara Alegría Hudes will write the script. 
Deadline reports Sony Pictures Animation is putting Vivo on the fast track for release on December 18, 2020. While this is probably the first most of you are hearing about this (it was for me), Vivo has actually been in the works for a while. Miranda first set up the movie at DreamWorks Animation six years ago, when he was riding high off the success of In the Heights. But the project stalled at DreamWorks, so Sony quietly swooped in to scoop it up.Vivo will feature eleven songs by Miranda, which are apparently already written. The story chronicles follows a capuchin monkey "with a thirst for adventure and a passion for music" on a dangerous journey from Havana to Miami. But those details seem to be from when Vivo was still at DreamWorks, so we'll have to see if any of that has changed in the intervening years.
It's impossible to overstate just how well Miranda's career is going these days. Hamilton continues to be a bona fide cultural phenomenon, with The Hamilton Mixtape debuting at the top of the Billboard 200 this week. Meanwhile, Moana is killing it at the box office and looks to get Miranda within spitting distance of an EGOT. He's also set to star in Disney's Mary Poppins Returns, and to collaborate with Alan Menken on the live-action remake of The Little Mermaid. On top of all that, just last week he announced he was taking on an adaptation of Patrick Rothfuss' The Kingkiller Chronicle for Lionsgate.
As if all that weren't enough, there's a movie adaptation of In the Heights brewing with director Jon Chu, and Miranda is apparently working on some top-secret animated project for Disney with Zootopia's Byron Howard.