'A Cure For Wellness' International Trailer: The Most Intriguing Look Yet At Gore Verbinski's Upcoming Film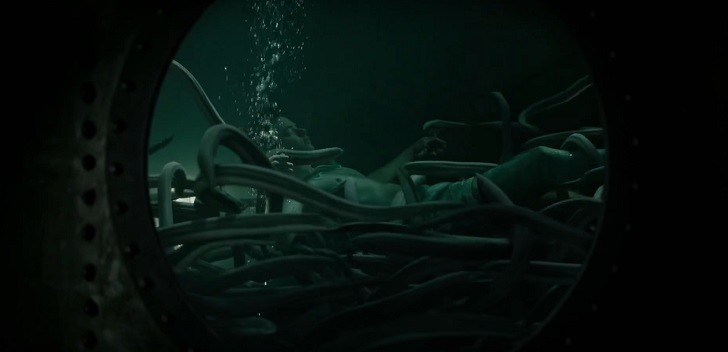 International trailers have a nasty habit of spoiling far too much. They're typically overlong, too. But that's not the case for this great international trailer for Gore Verbinski's A Cure for Wellness, a movie billed as a psychological thriller that's advertised as more of a horror film. This latest one-minute preview teases Verbinski's latest thriller with some chilling imagery and body horror.
Below, watch A Cure for Wellness international trailer.
Dane DeHaan stars in the film as an ambitious and arrogant executive who travels to the Swiss Alps to retrieve his boss from a creepy European "wellness spa." His once seemingly simple task leads to all sorts of horrors. This spa, the exec discovers, isn't your average day spa. The previous trailer was cut to a cover of "I Wanna Be Sedated" and contained a few plot points, but this short and nasty trailer gets right to it and shows you exactly what (hopefully) this movie is going to be.
The film co-stars Jason Isaacs (Green Zone) as the wellness spa's director and Mia Goth (Nymphomaniac) as a patient. Here's the international trailer for A Cure for Wellness:
I wish this international trailer were playing in theaters. The unnerving use of sound and the stainless steel bath could immediately grab an audience's attention. It's much more aggressive trailer than the previous preview, and I bet seeing a packed theater react to it would be something.
So far the marketing has made A Cure for Wellness stand out from the pack. There aren't many other original R-rated studio movies coming out anytime soon that look quite like Verbinski's film, which was recently screened in Austin at BNAT. The crowd was mostly enthusiastic, praising the film for its gory, R-rated weirdness and beautiful and horrific visuals. After the box-office and critical failure of The Lone Ranger, it's great to know audiences are already positively more to Verbinski's latest, which is surprisingly two hours and twenty minutes long.
Here's the official synopsis:
An ambitious young executive is sent to retrieve his company's CEO from an idyllic but mysterious "wellness center" at a remote location in the Swiss Alps. He soon suspects that the spa's miraculous treatments are not what they seem. When he begins to unravel its terrifying secrets, his sanity is tested, as he finds himself diagnosed with the same curious illness that keeps all the guests here longing for the cure. From Gore Verbinski, the visionary director of THE RING, comes the new psychological thriller, A CURE FOR WELLNESS.
A Cure for Wellness opens in theaters February 17th.