Ben Affleck Is Not In A Rush To Make His Batman Movie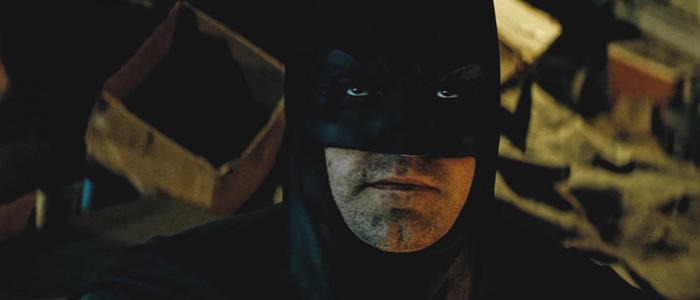 It seems pretty clear that Warner Bros. would like to get Ben Affleck's Batman movie out sooner rather than later, ideally before Justice League 2. But as far as Affleck is concerned, there's no need to rush. During a recent interview, he insisted that he has no interest in "reverse-engineering" the movie to hit a release date, stressing that he's more concerned about finding "the right story" before he proceeds. 
Affleck sat down with the New York Times for their Time Talks series (via Batman News). Asked for an update on his Batman project, he said:
We still have to get a screenplay and get it together. ... I'm a real believer in not reverse-engineering projects to meet a window or a date, but rather when you get the right story, when the right idea, when the right thing, then you make the movie. That's what we're doing, and I'm hoping to get that done. I'm spending a lot of time working on that, but also working on other stuff.
If I could, if I could find it right, there's nothing I'd love more than to direct a standalone, iconic, great Batman movie. But it's been done. Chris Nolan did three really great movies. I'm really mindful of that. I'm in not any hurry to jam the mediocre movie down the pipe. I really want to make sure that, if we do it, we get the great version and one that's worthy of the tradition of guys like Tim Burton, Chris Nolan, and Christian Bale.
I wonder if Affleck is the reason Warner Bros. hasn't officially announced a release date for the Batman solo movie. It's no secret that one is in the works, with Affleck working on the story and directing as well as starring. Or that Warner Bros. wants to get moving on it. Not to mention, the studio already has a bunch of dates set aside for their DC movies. And yet all we've heard so far are vague estimates about when the film might open. The latest word is that it'll arrive sometime before the Justice League sequel, which would put it at around 2019. Maybe 2018 if Affleck hits the ground running.
Mind you, it's not necessarily a bad sign that Warner Bros. has yet to confirm a date for Affleck's Batman. One of the many issues plaguing this summer's Suicide Squad was the rushed schedule — Ayer basically had to sprint to get the film done in time, and it's reflected in the sloppiness of the film. It's probably a mistake Warner Bros. is not eager to repeat, especially when the franchise's most popular character is at stake. Besides, it's not like audiences have a long wait to see Affleck back as the Dark Knight. He'll reprise the role in Justice League, out next year.