Ruben Fleischer To Direct Chris Evans In 'Jekyll'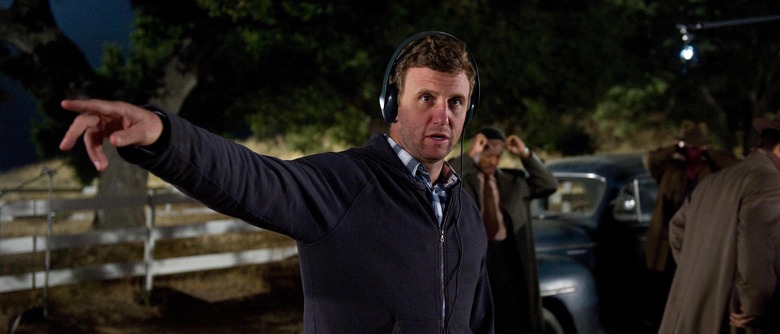 Having spent the past five years playing Marvel's nicest superhero, Chris Evans about to get in touch with his dark side. Zombieland's Ruben Fleischer has just been set to direct Evans in Jekyll, based on the 2007 BBC One miniseries about a modern-day descendant of Robert Louis Stevenson's classic split-personality character. 
Deadline reports Fleischer's Jekyll movie already has a script by Anthony Bagarozzi and Charles Mondry. It sounds like Fleischer will work with the writers to take another pass at the screenplay. Marc Platt (La La Land) is producing with Jeff Kleeman (The Man From U.N.C.L.E.) and Ellen DeGeneres (yes, that Ellen DeGeneres). Still unclear is when Jekyll will move forward. Fleischer is also currently working on a sequel to Zombieland, his hit debut feature, while Evans is tied up with the next Avengers sequel.
Although BBC One's Jekyll was inspired by Stevenson's Strange Case of Dr. Jekyll and Mr. Hyde, it's not a direct adaptation. Written by Steven Moffat (of Sherlock and Doctor Who fame), it starred James Nesbitt as a contemporary descendant of Jekyll who has apparently inherited his ancestor's disorder. He ditches his wife and family without explanation, and holes himself up in a fortified basement with a hired psychiatric nurse named Reimer (Michelle Ryan). Jackman and his Hyde-like alter ego share a body but are unaware of each other's actions, so they use a cassette recorder to pass messages back and forth between them.
Jekyll is not to be confused with the other Dr. Jekyll and Mr. Hyde-based movie project in the works at Universal. That one is intended to be part of the Universal Monsters cinematic universe, with Russell Crowe's Jekyll first debuting in Tom Cruise's The Mummy.
After breaking out with Zombieland, Fleischer directed 30 Minutes or Less, an action-comedy that never quite gelled, and then Gangster Squad, a tedious and generic crime drama. He's also worked steadily in TV, working on shows like Marry Me, Superstore, and the upcoming Santa Clarita Diet.
Evans has spent most of his time recently working on different Marvel movies, but he's managed to squeeze in a few other features along the way including The Iceman, Snowpiercer, and Before We Go, the latter of which also marked his directorial debut. He'll next be seen in Gifted, from (500) Days of Summer and Amazing Spider-Man director Marc Webb. He joined Jekyll in July.